Coronavirus, which is also known as COVID-19 is an infectious disease that has taken its toll on people all across the globe.
So, as many of us lightly or strongly affected to that idea we have deside to gathering a collection of more as 70 Coronavirus graphics and templates for all your needs.
In this hot list you will find all your needed designs like: icons, flyers, mockups, logos, photos etc. Some of these designs are completely free to use and other are premium design where cost a small amount of money, but are in the best quality.
We hope you stay safe at home and make your works remotely. Keep a good mood and enjoy.
You may also like:
---
Coronavirus Icons (AI, EPS, SVG, PSD)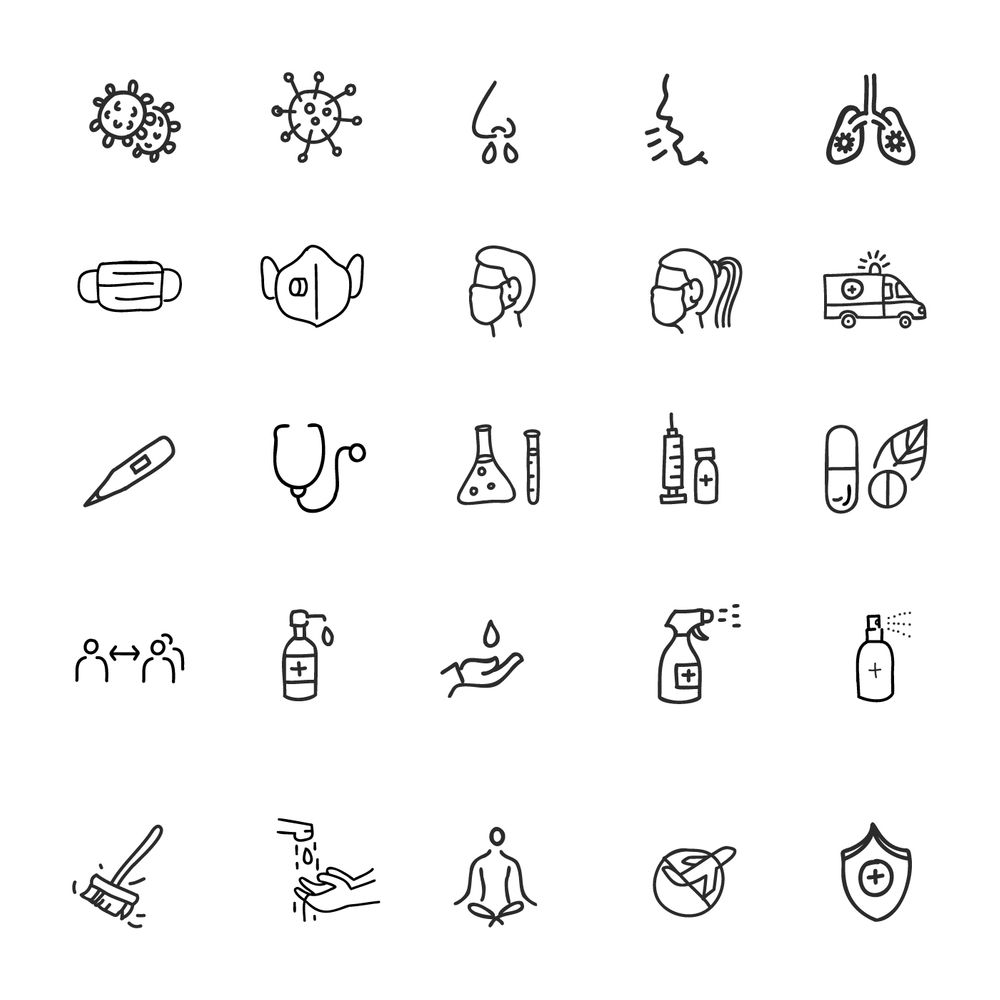 25 Free hand-drawn Covid-19 icons to create awareness as well as encourage designers to use them in their designs, apps, posters and print media.Download Source
Thank You Doctors & Nurses Illustrations (AI, EPS, SVG, PNG)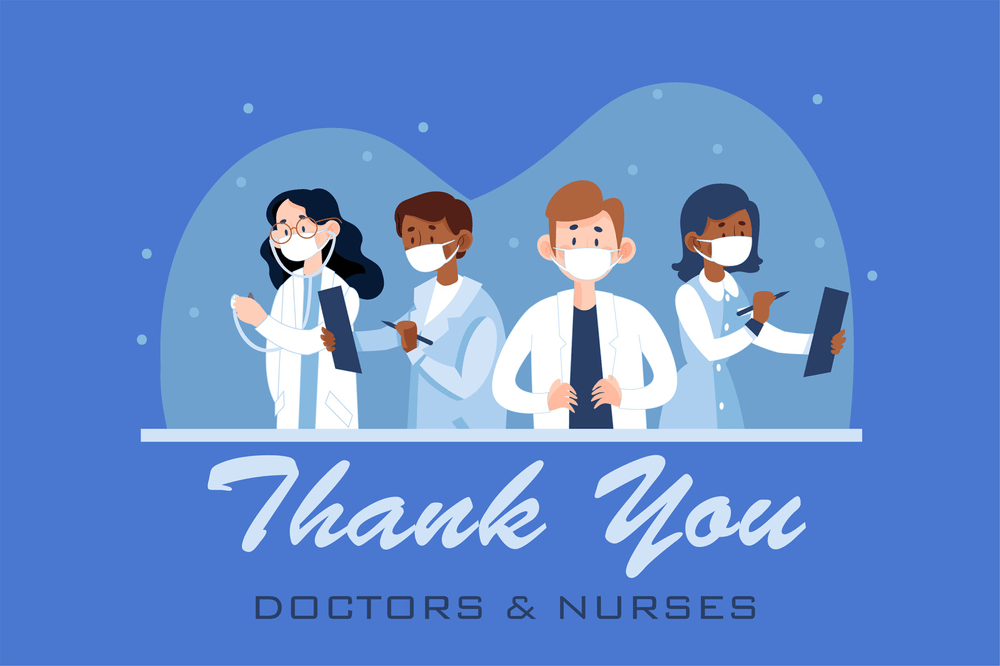 Can be easily resized and change colors of each and every shape as required, You could also combine different elements and create your own illustrations.Info / Download Source
Checking Body Temperature Illustrations (AI, EPS, SVG, PNG)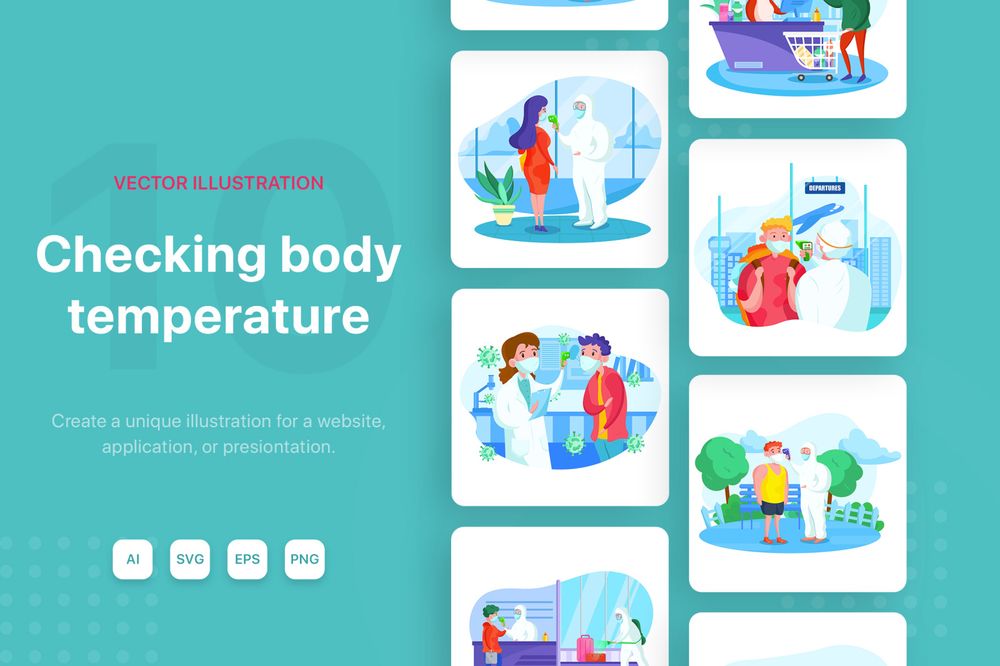 Create a unique illustration for a website, application, or presentation. This illustration really helps your digital needs. You can use this illustration for your website, especially the header section.Info / Download Source
10 Free Different Coronavirus Vectors (AI, EPS)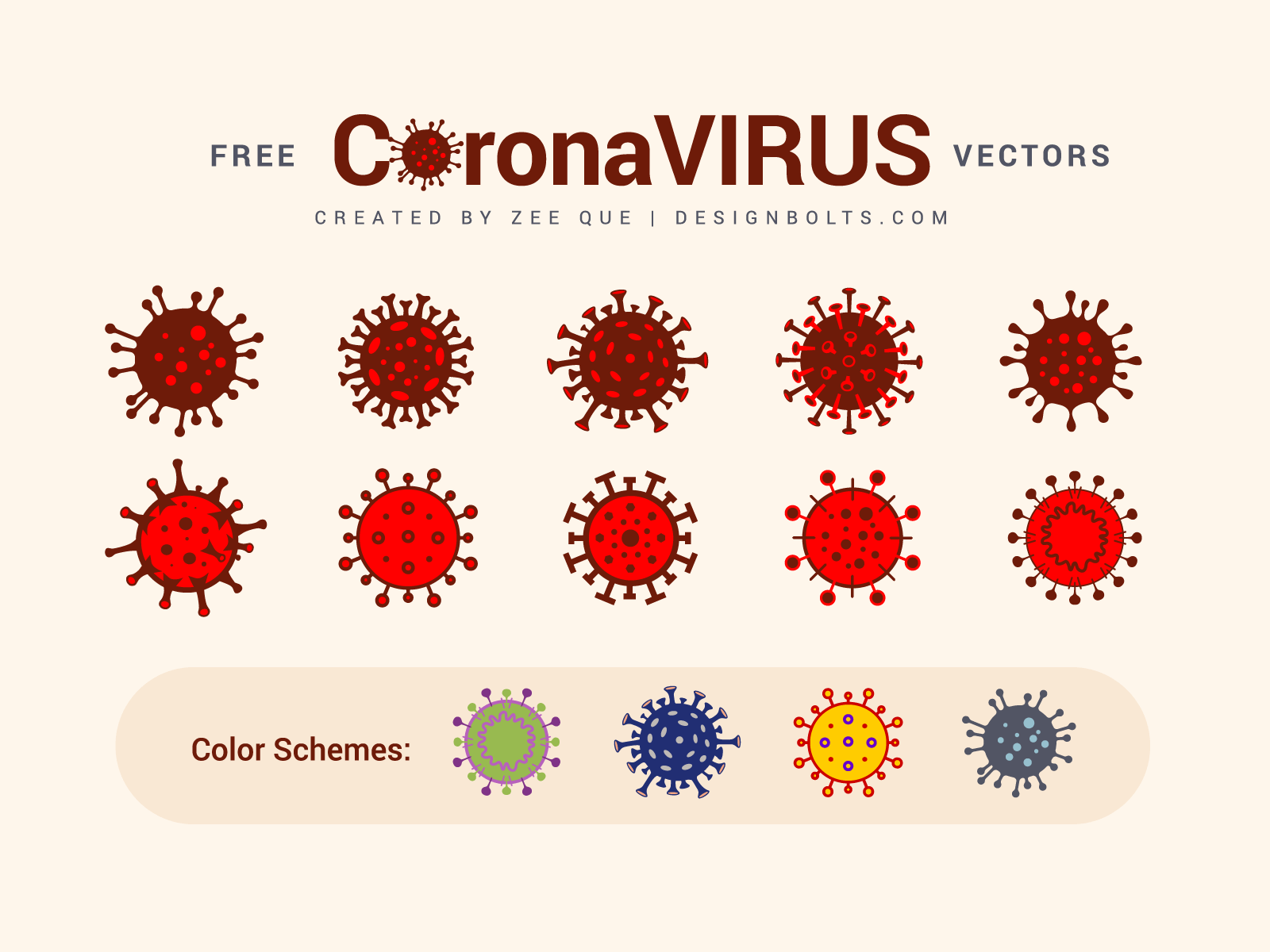 To create your designs and communication, all you have to do is to check out these 10 different Coronavirus vectors that can be used for your design projects. We have also designed some color schemes that you can use or use any virus color palette of your choice.Download Source
Free Coronavirus / Covid-19 Signs, Symbols, Badges, Icons & Stickers (AI, PDF)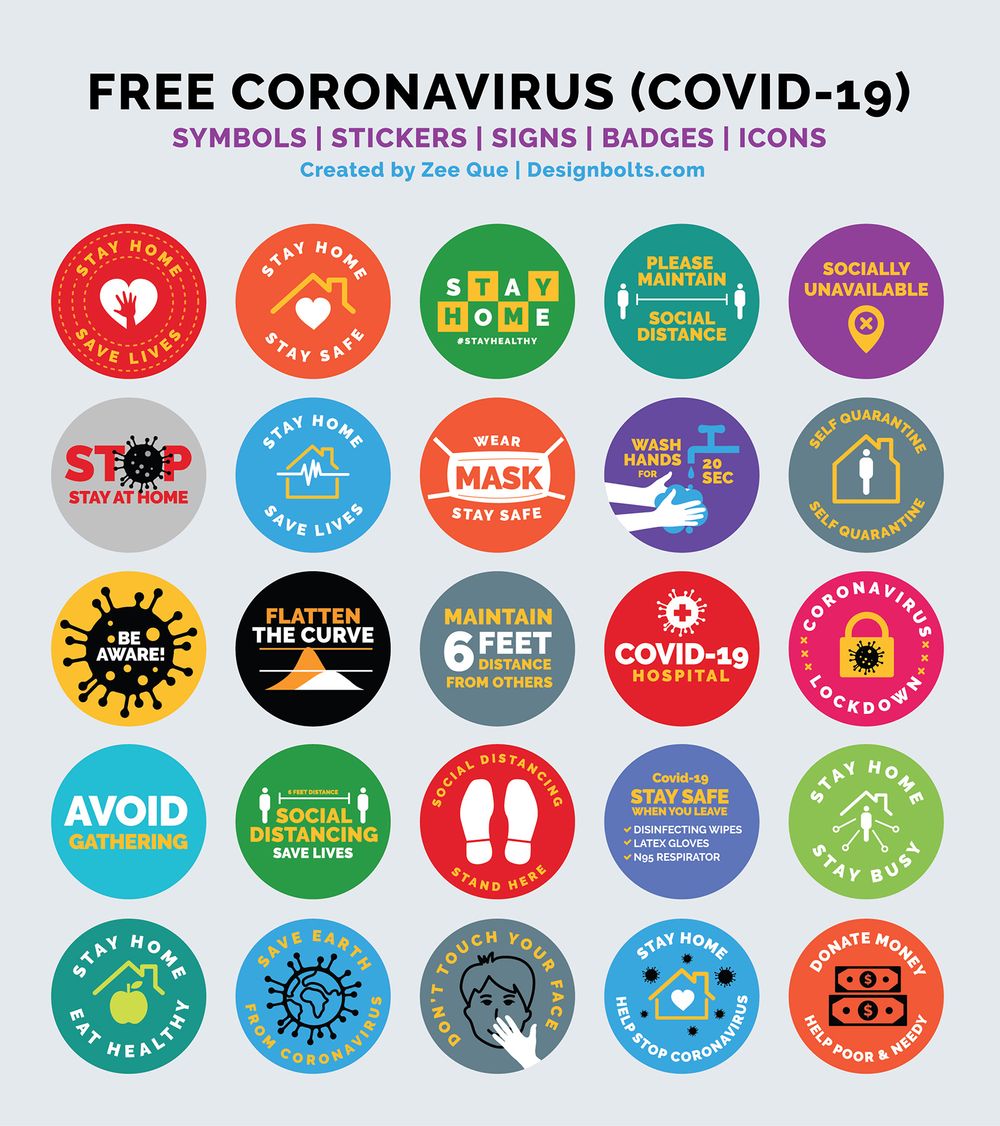 We would encourage you all to get your hands on these badges right away and start wearing them and create as much awareness as you can through your social media platforms by sharing authentic information.Download Source
Free High Resolution Coronavirus Stock Images / Photos for Design Projects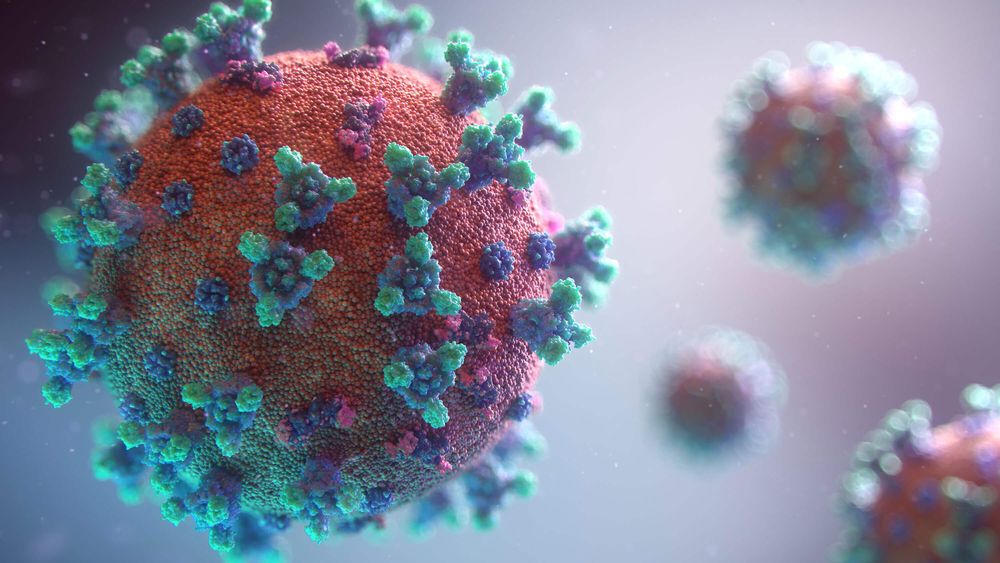 Feel free to use these amazing Coronavirus high resolution photos in your designs.Download Source
Free COVID 19 Live Tracker UI Kit (FIG, XD, PSD, Sketch)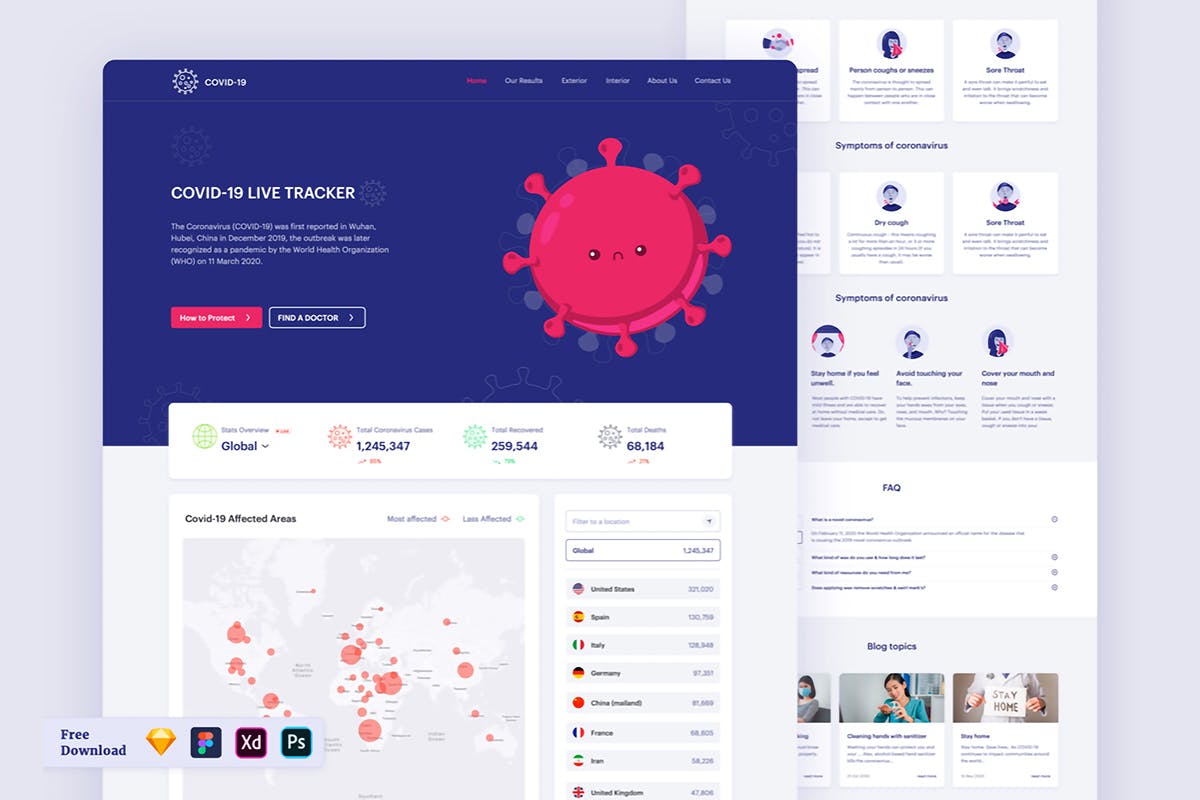 This is an awesome free UI Kit for you to use it on your website related to the virus.Download Source
Free Coronavirus Awareness Icons (SVG, PNG)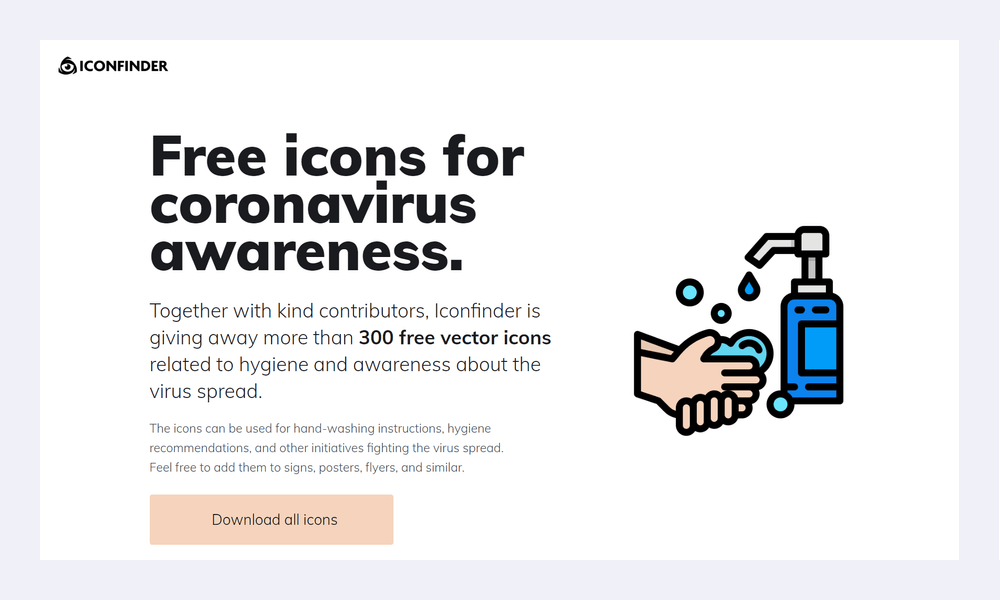 The icons can be used for hand-washing instructions, hygiene recommendations, and other initiatives fighting the virus spread. Feel free to add them to signs, posters, flyers, and similar.Download Source
50 Free Coronavirus Icons (EPS, SVG, PSD, PNG)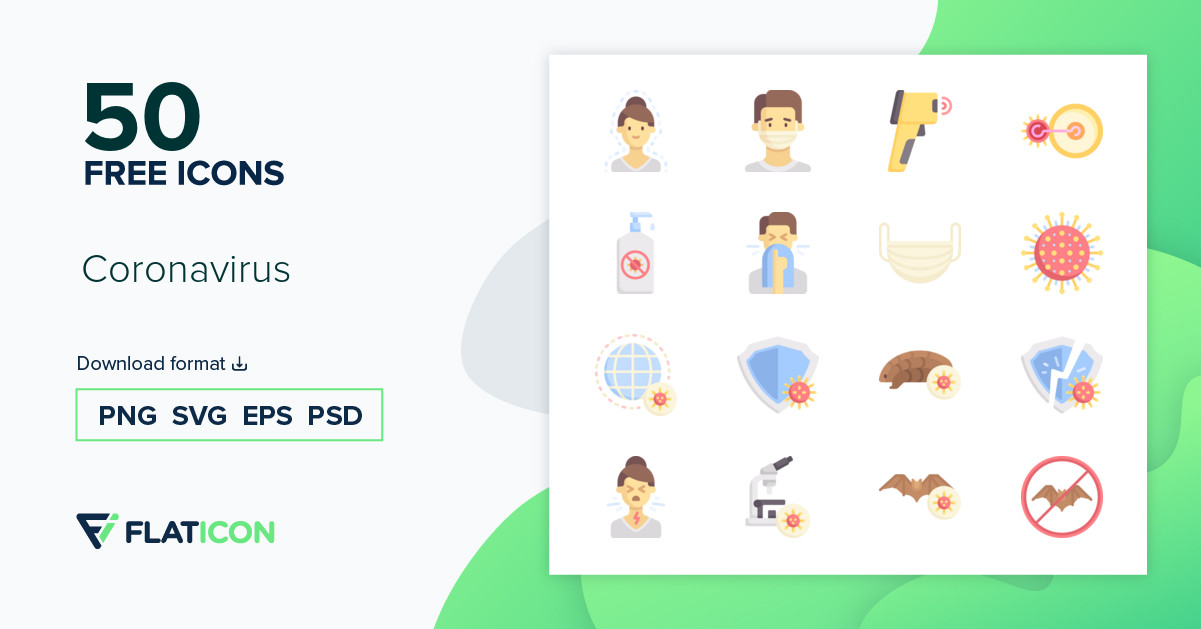 Use these free icons for personal and commercial needs.Download Source
Free Coronavirus Social Distancing Illustration (AI)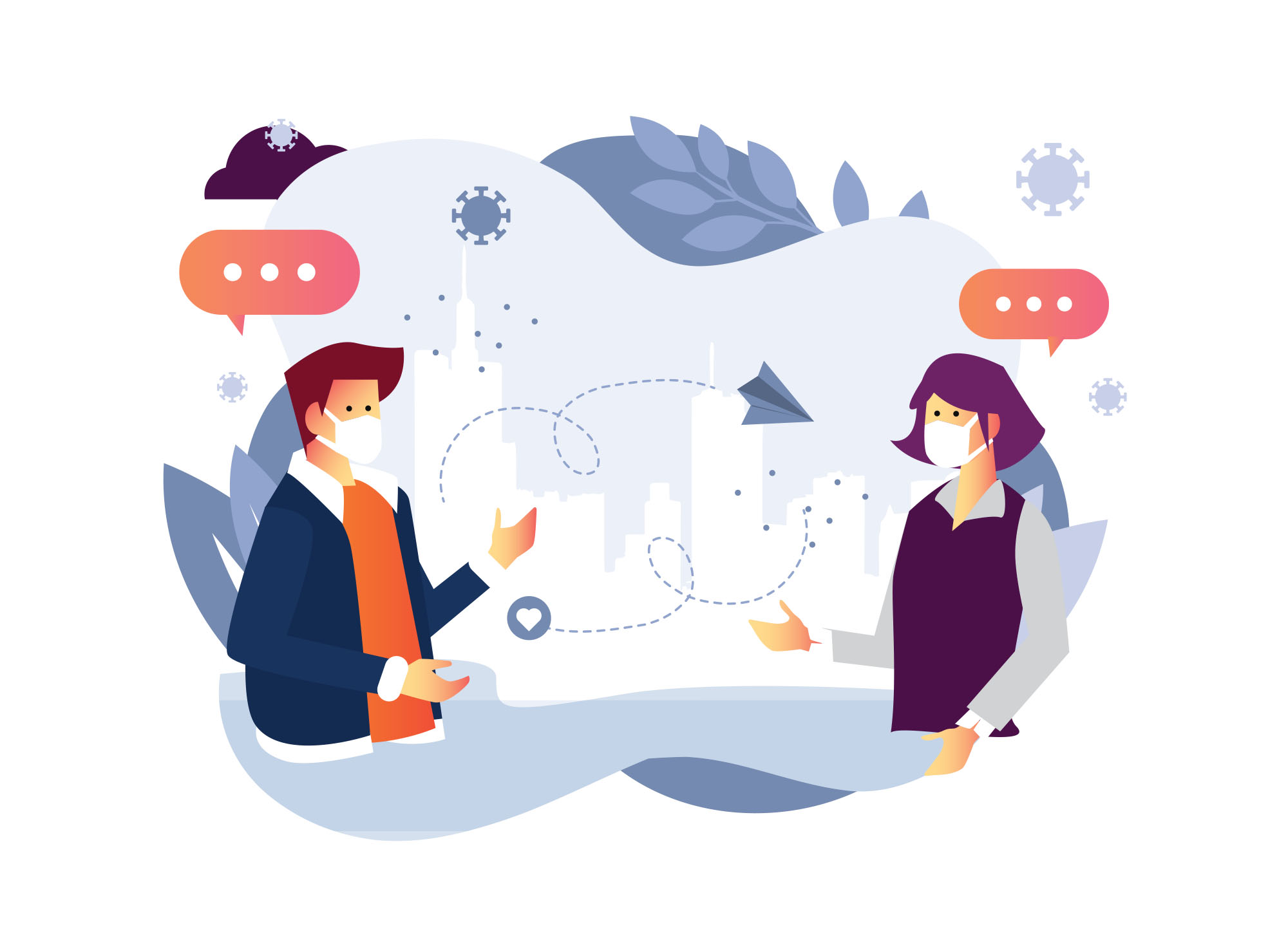 Free to use Coronavirus illustration for your design projects.Download Source
Free Coronavirus Pandemic Illustration (AI)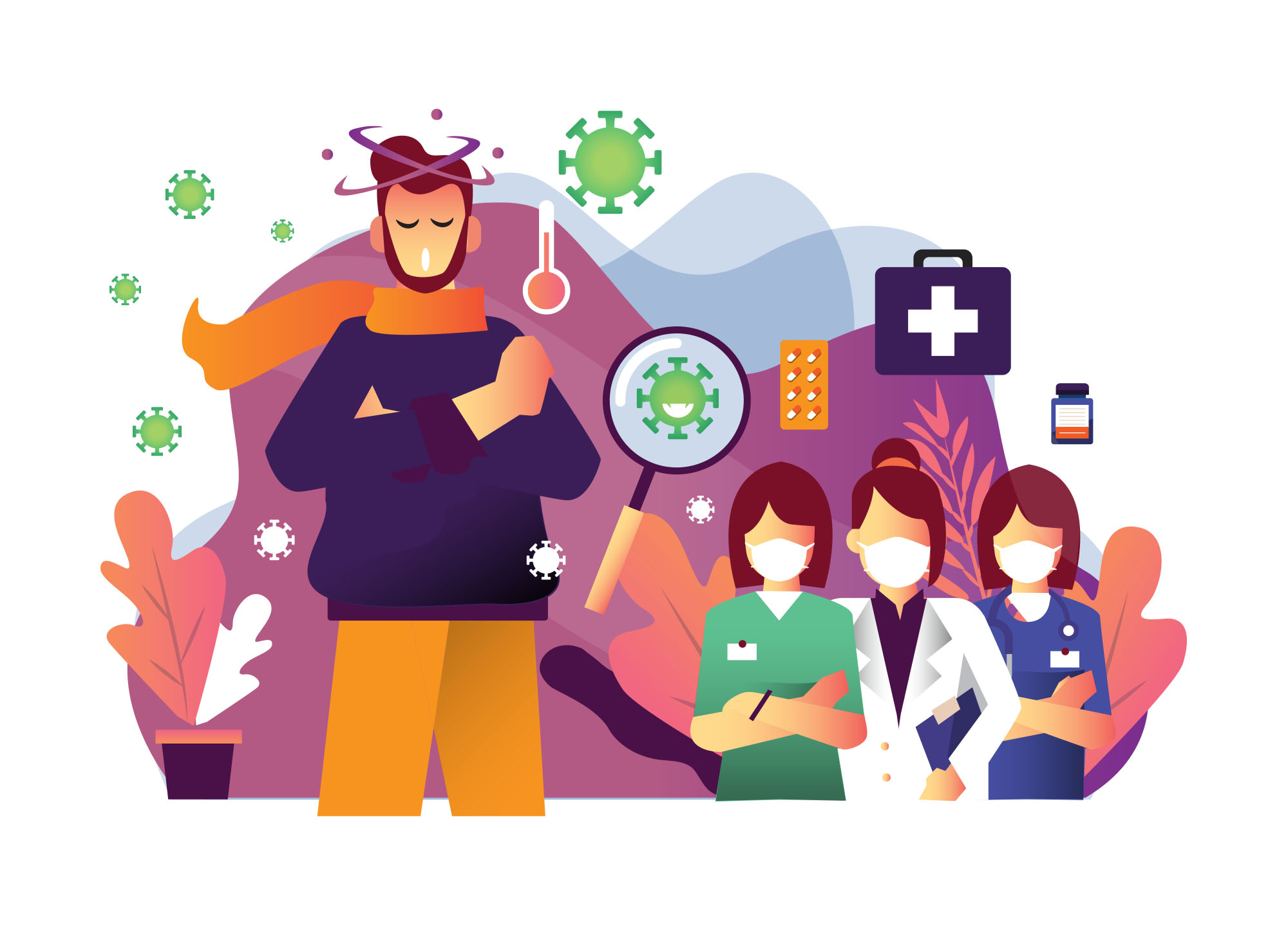 Free to use Coronavirus illustration for your design projects.Download Source
Free Covid 19 Illustration (AI)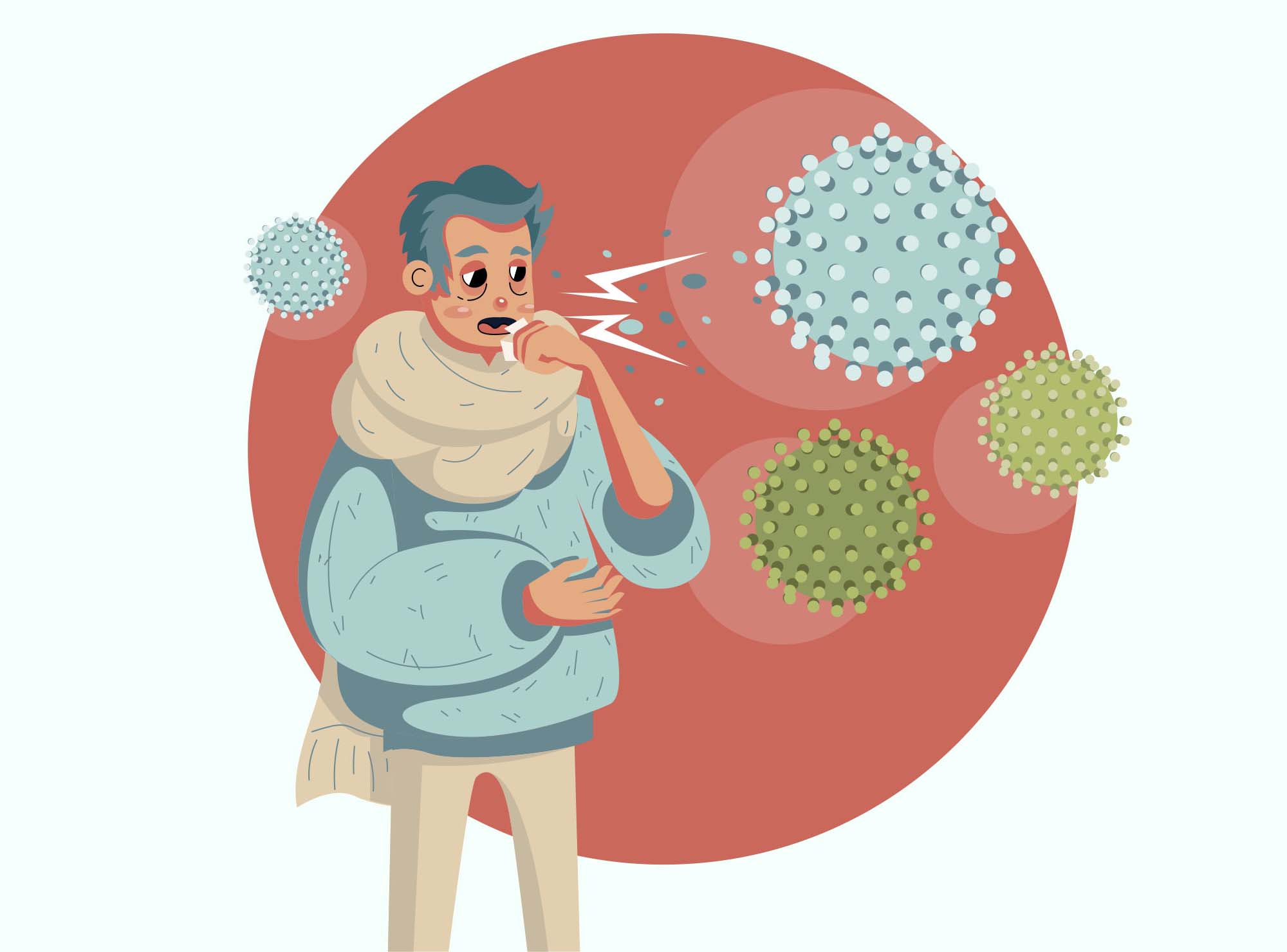 Free to use Coronavirus illustration for your design projects.Download Source
30 Free Outline Coronavirus Icons (SVG)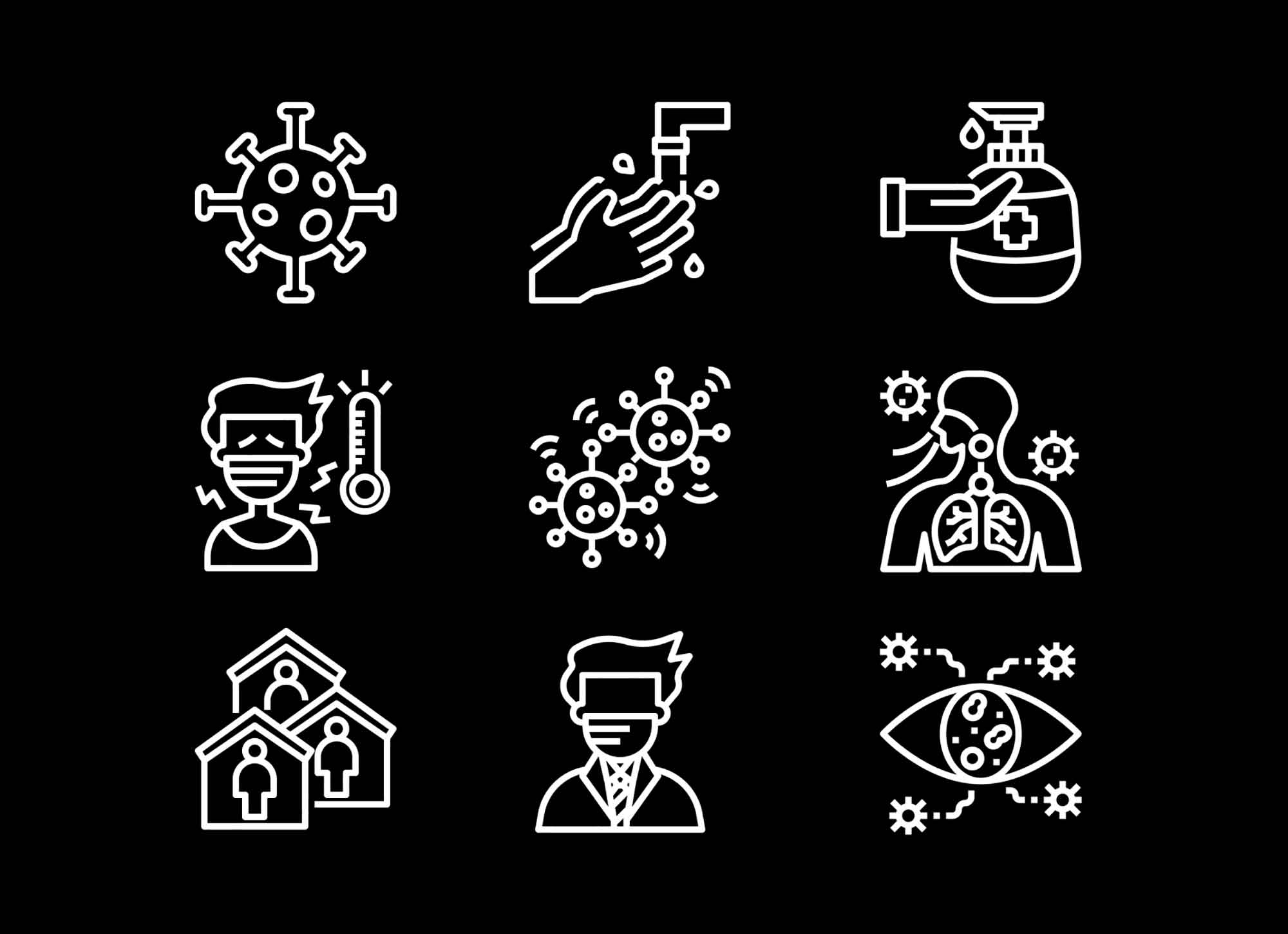 The free download includes a total of 30 icons presenting different concepts related to the Coronavirus: the virus itself, preventive measures, transmission, quarantine, sanitizers, medical equipment, patients and doctors, and many others.Download Source
Free Coronavirus Landing Page Template (PSD)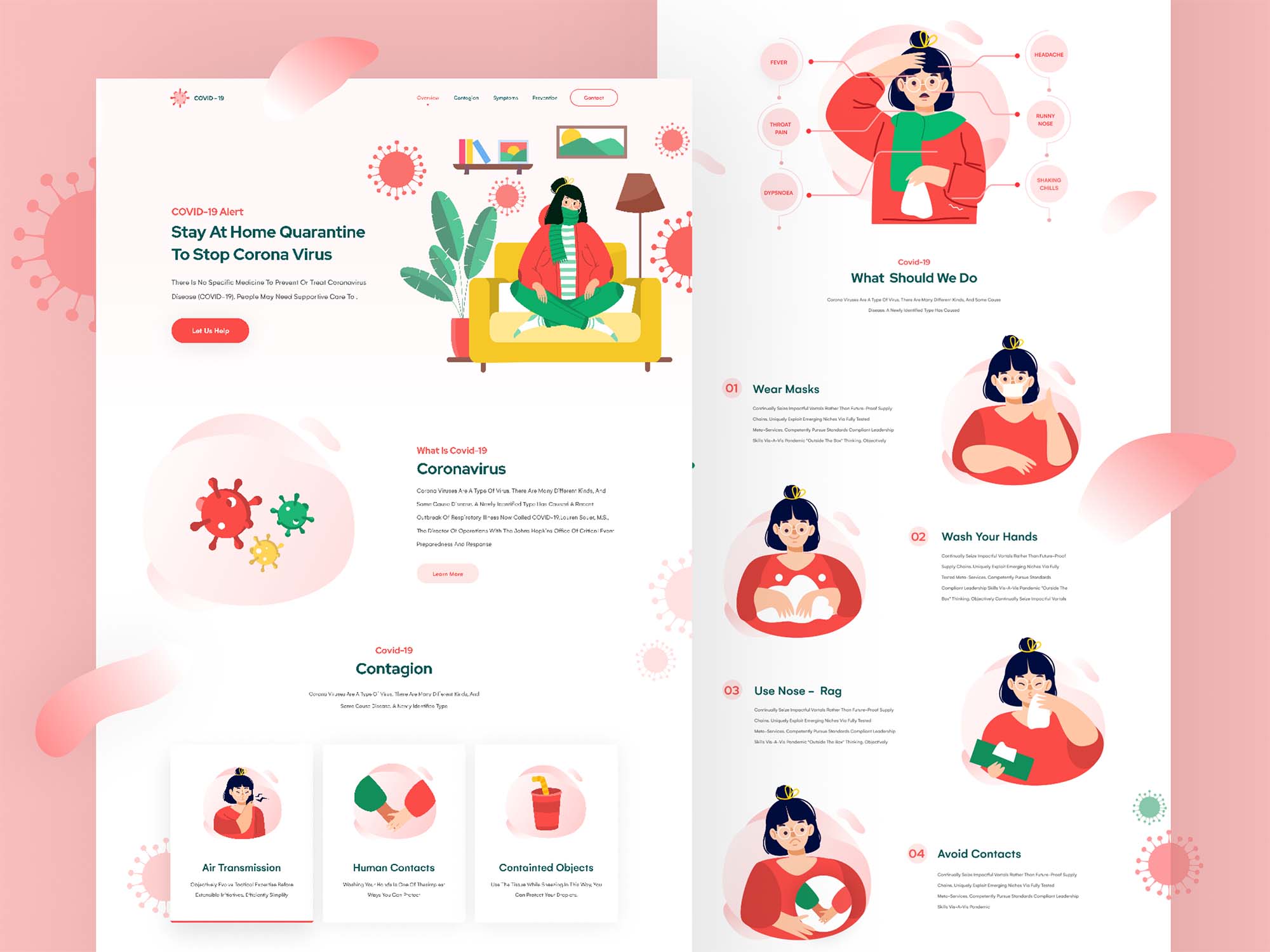 The concept uses multiple illustrations to convey a visual story to the masses. You can add important information to this concept and create your own website, which will not only help you invest your time in meaningful pursuits but also help communities that are at high risk.Download Source
Free Covid 19 Symptoms Illustration (AI)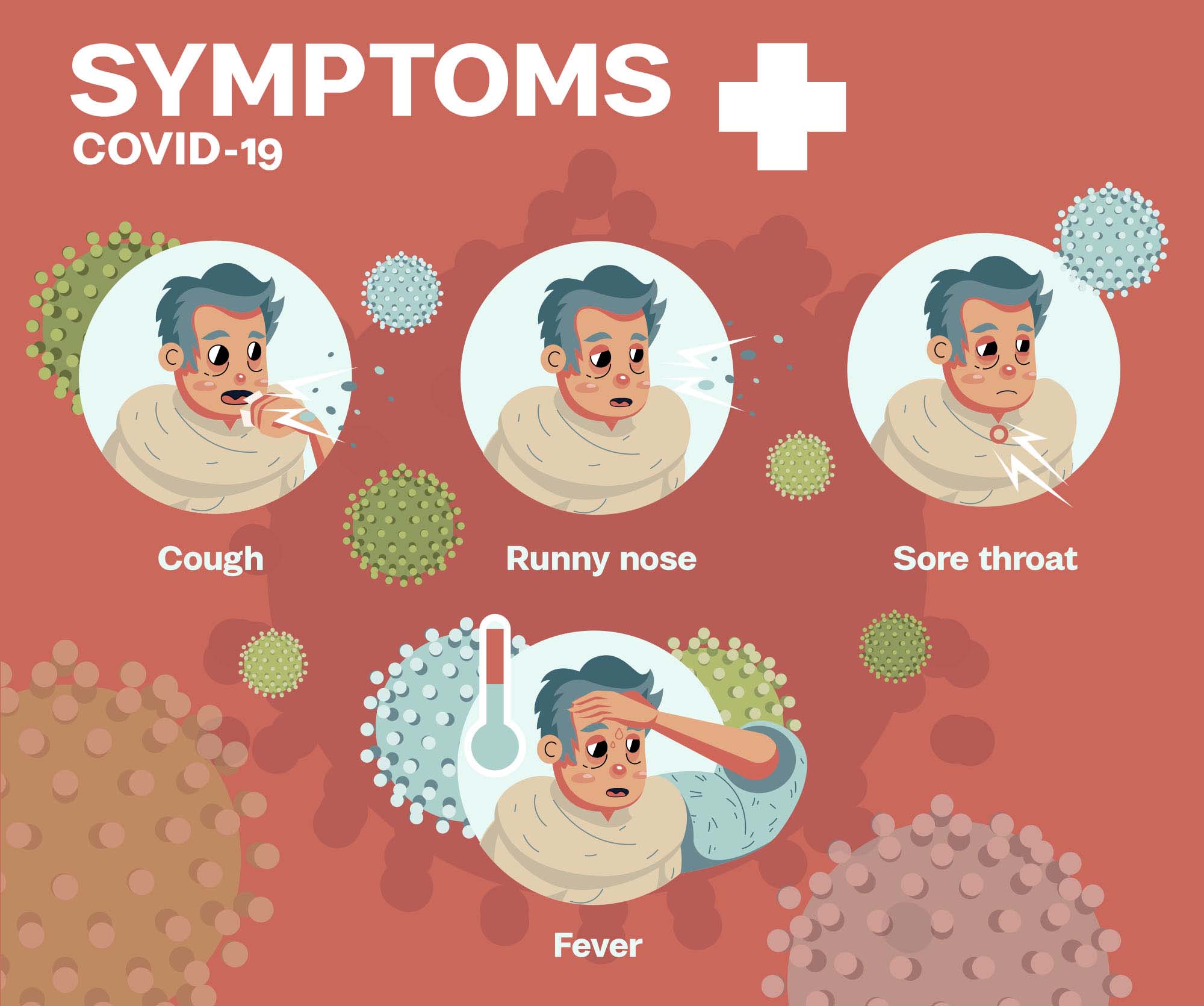 You can easily customize the colors and size of this illustration in Adobe Illustrator, then use it on your blog, social media platforms, website, or print it on flyers and circulate it.Download Source
Free Coronavirus Vector Icons (AI)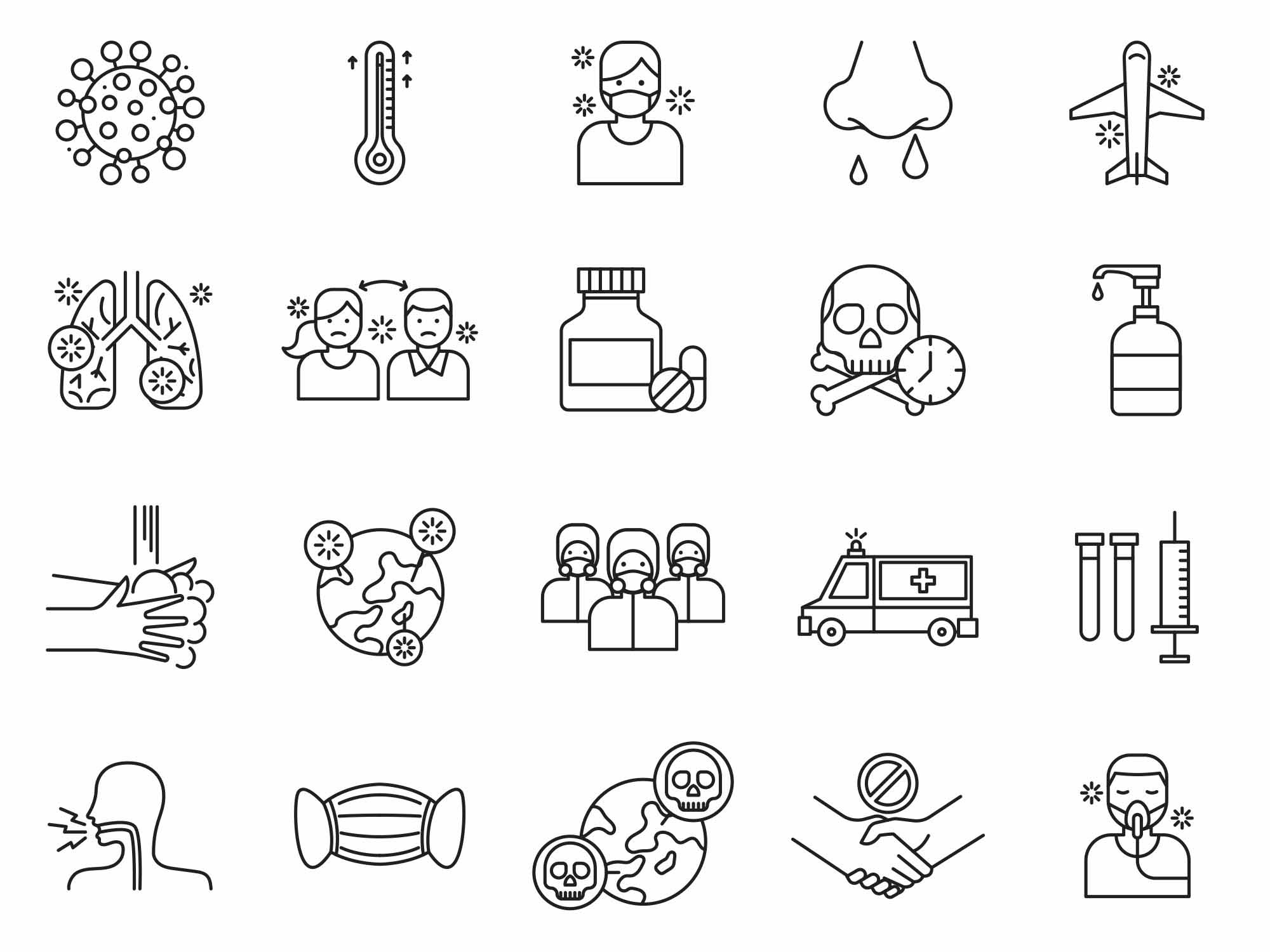 Available in AI format, the set features 20 minimalist vector icons which include a plethora of different concepts that cover the various aspects of this pandemic: the Covid-19 itself, preventive measures, symptoms, do's and don'ts, hazmats and much more.Download Source
Doctor Fighting Coronavirus Cartoon (EPS, PDF, PSD)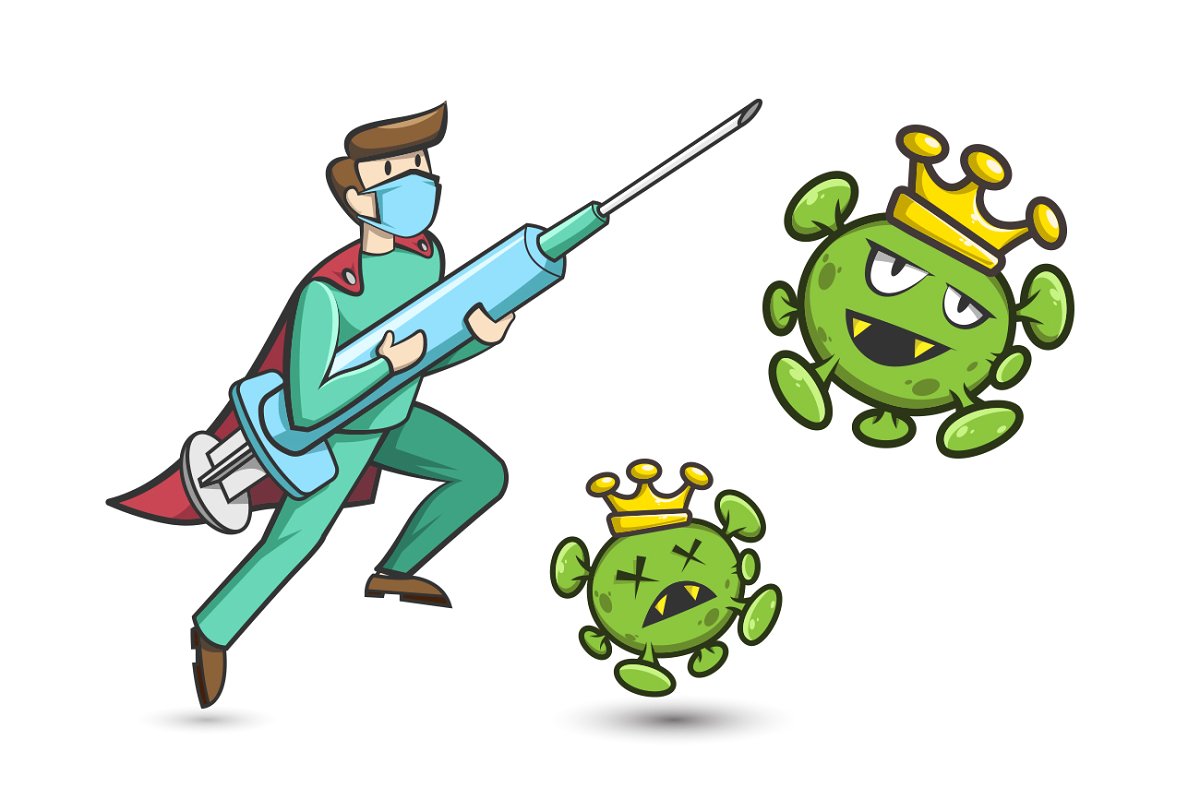 Add this awesome illustration to your design and show the support for the medicals.Info / Download Source
Virus Hand Drawn Vector Illustration (EPS, JPG, PNG)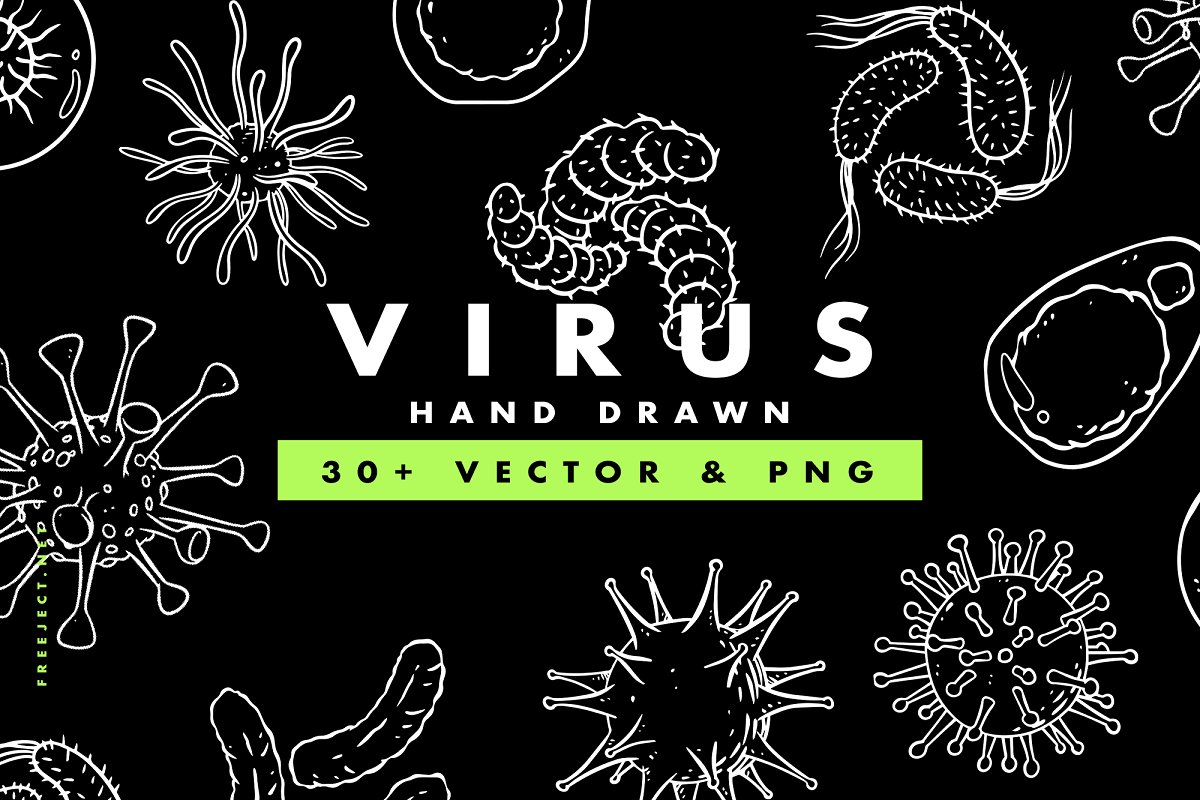 A virus illustration with hand-drawn for medical or biological theme design needs. This illustration was created in lineart style, get the virus illustration with the vector EPS and PNG format.Info / Download Source
Coronavirus – Flat Vector Icons (AI, SVG, PNG)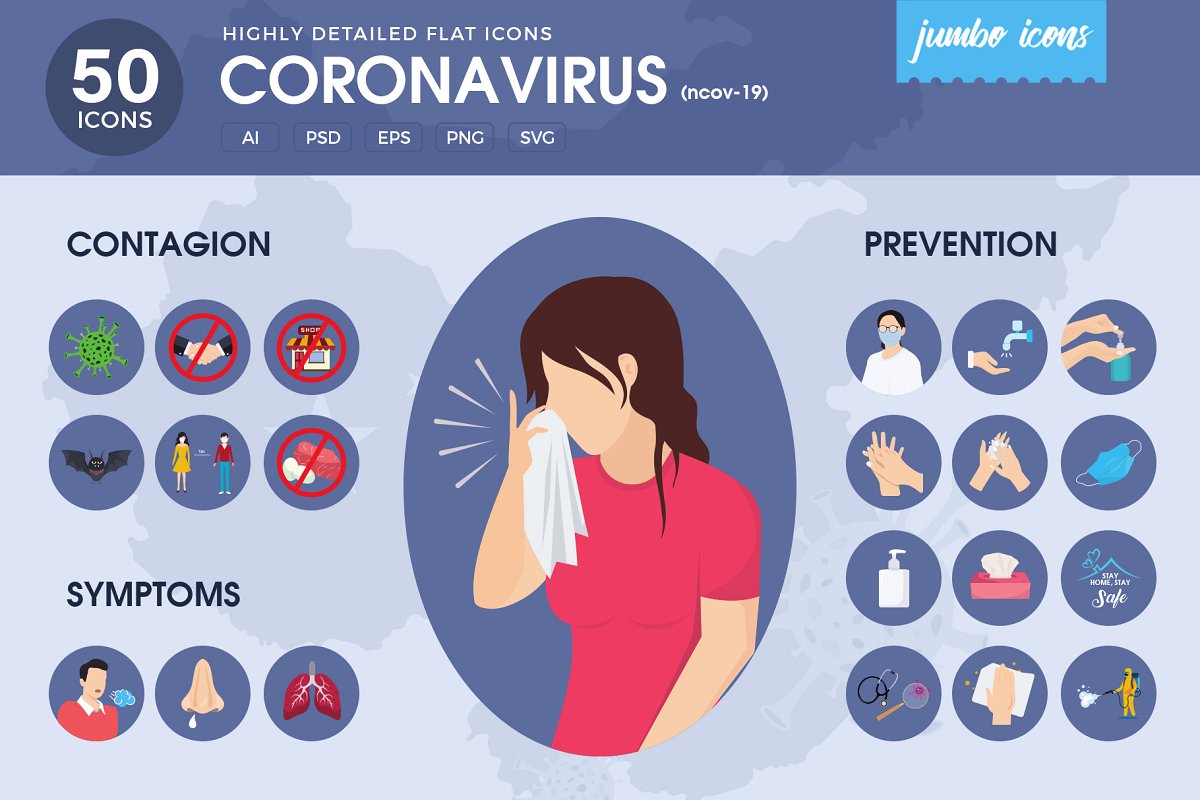 You can use these icons in every type of Covid19 awareness design. Corona Virus Themed Flat vector icons are easily editable. You can change them as per your design needs.Info / Download Source
Stay at Home, Set of Illustrations (AI, EPS, PNG)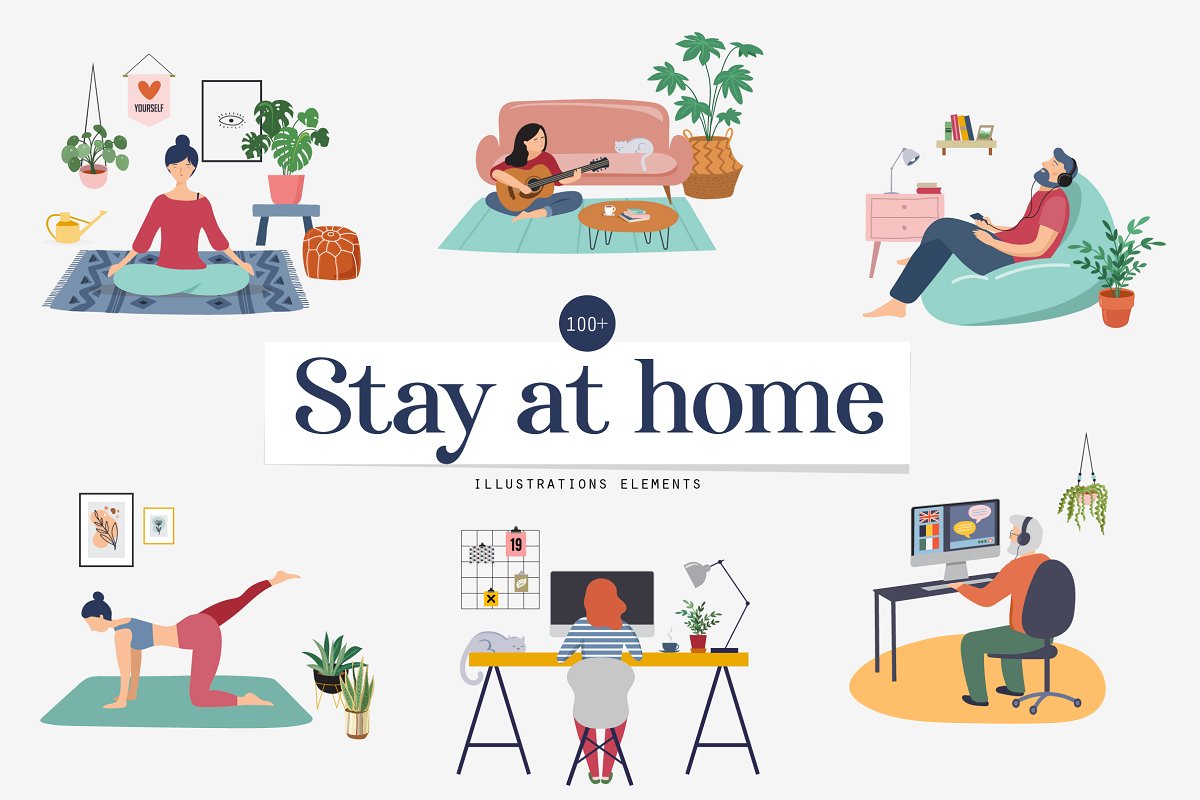 Perfect for all who is looking for trendy illustrations, vibrant colors and good vibes, all that you need for design your posters, greeting cards, apparel design, social media promotions, etc.Info / Download Source
Stay Home, Covid-19, Vector Set (EPS, JPG)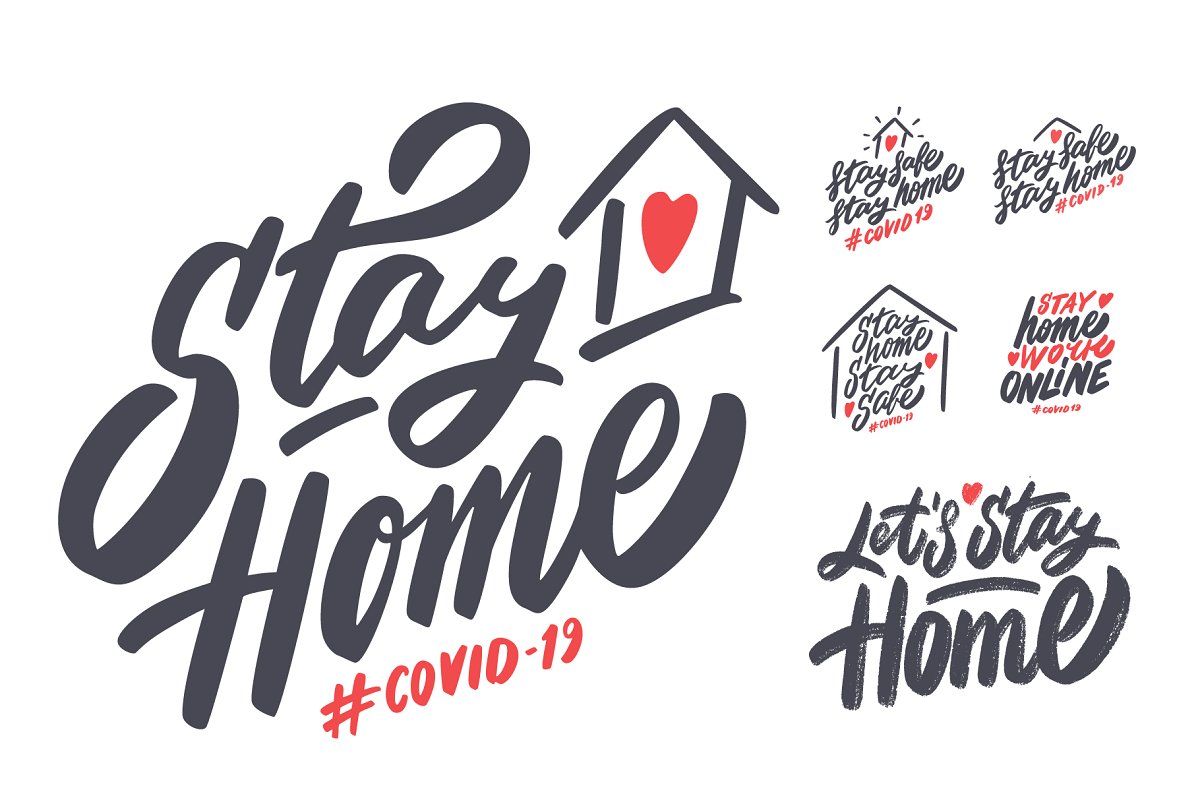 Stay home, stay safe, work online. Vector lettering set.Info / Download Source
50 Coronavirus Icons (EPS, SVG, PNG)
50 Coronavirus icons ready for your projects. Infection, smog, air pollution in south korea, wuhan coronavirus COVID-2019 concept. Colorful asians people wearing face medical masks, respirators. Modern flat style. Vector illustration.Info / Download Source
Fight for Corona Flyer (PSD)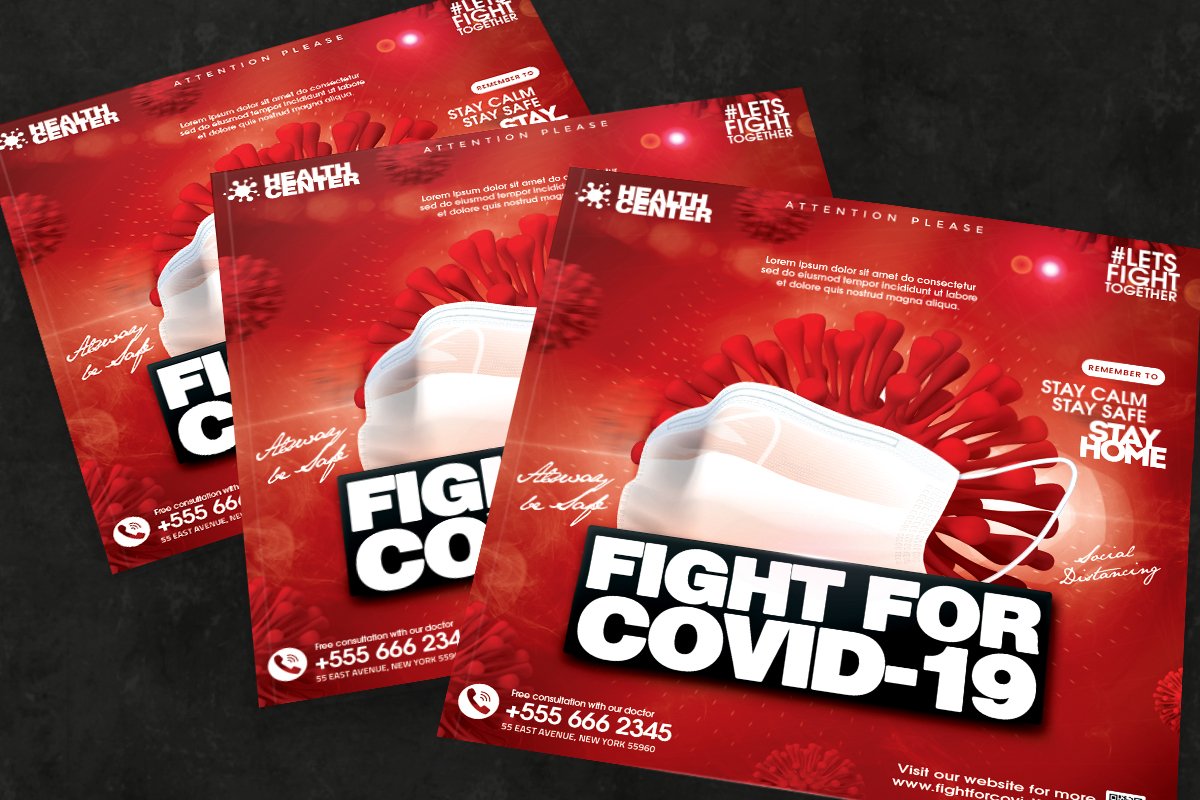 Great square flyer to fight for Corona virus in Photoshop (PSD) file format. Easy to edit and use.Info / Download Source
7 Epidemic Cartoon Semless Patterns (AI, EPS, JPG)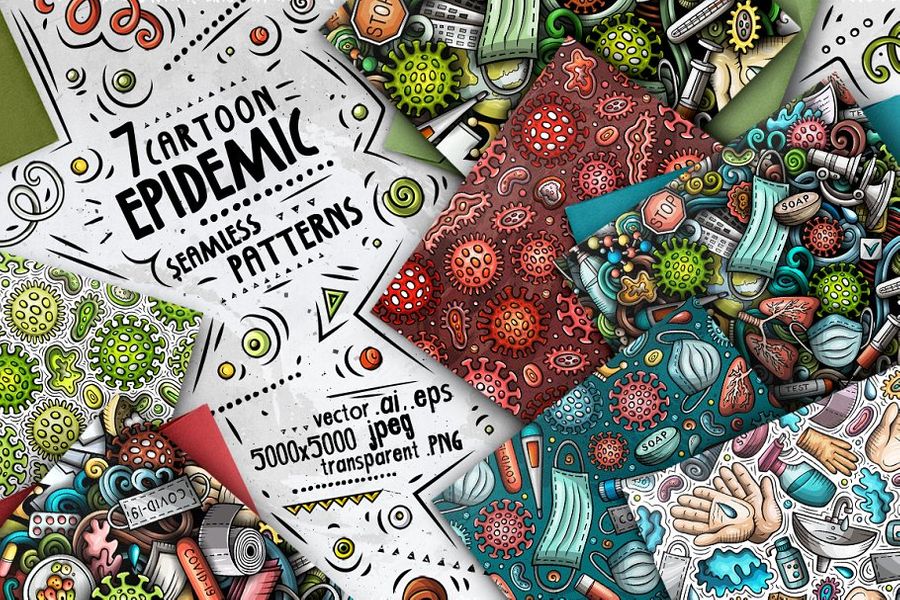 Seamless pattern can be used on backgrounds, wallpaper, invitations, cards, banners, scrapbooking, posters, web graphics, blogs, decorations, wrapping paper, fabric design, packaging, clothes and more!Info / Download Source
Coronavirus Lettering Phrases (SVG, JPG, PNG)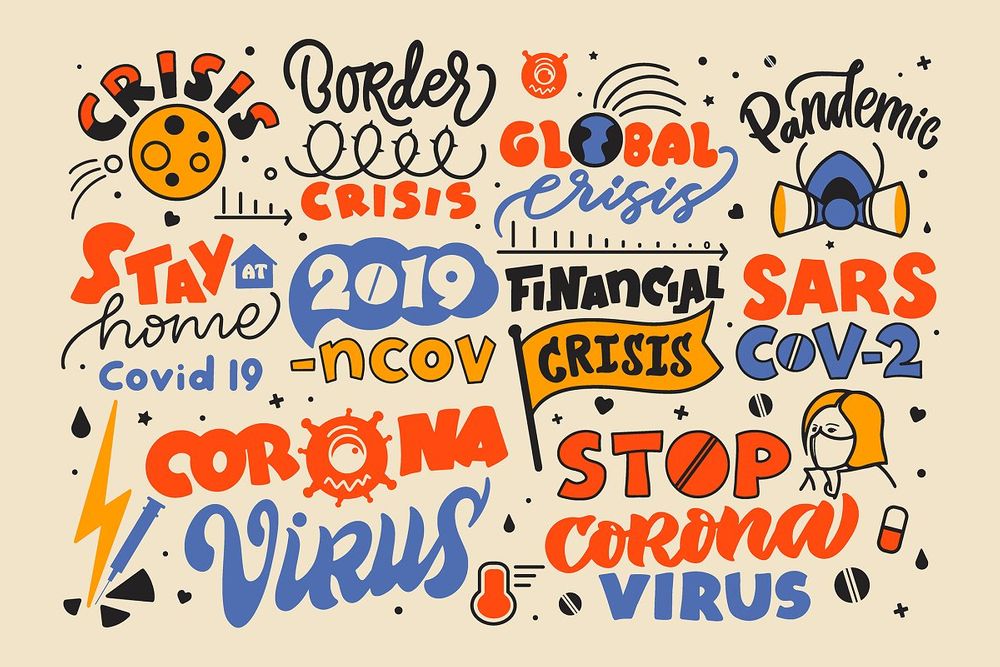 Colorful set of lettering phrases, emblems, logos, hand-drawn text, icons. Pandemic stop infographic. Vector illustration.Info / Download Source
Symptoms of Coronavirus Covid-19 (EPS, PSD)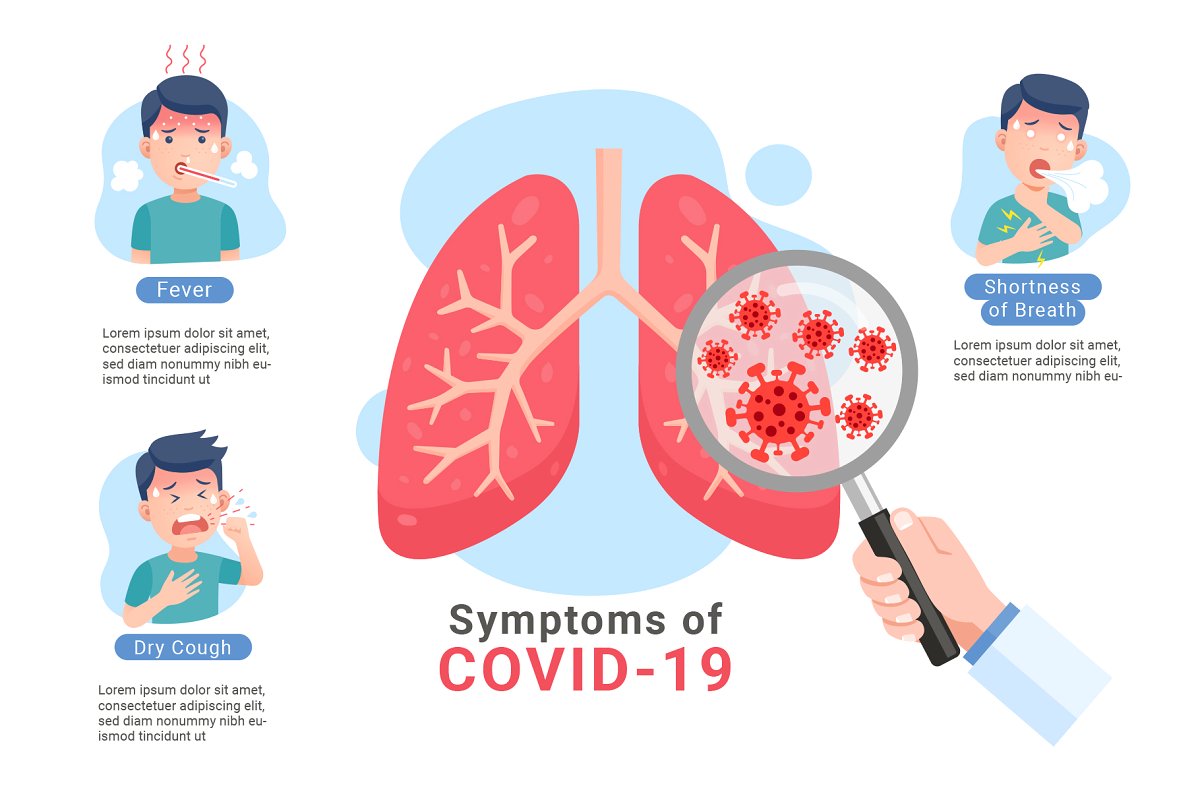 Useful graphic of Coronavirus symptoms. Easy to edit and use.Info / Download Source
Healthcare Illustration Bundle (SVG, PNG, Sketch)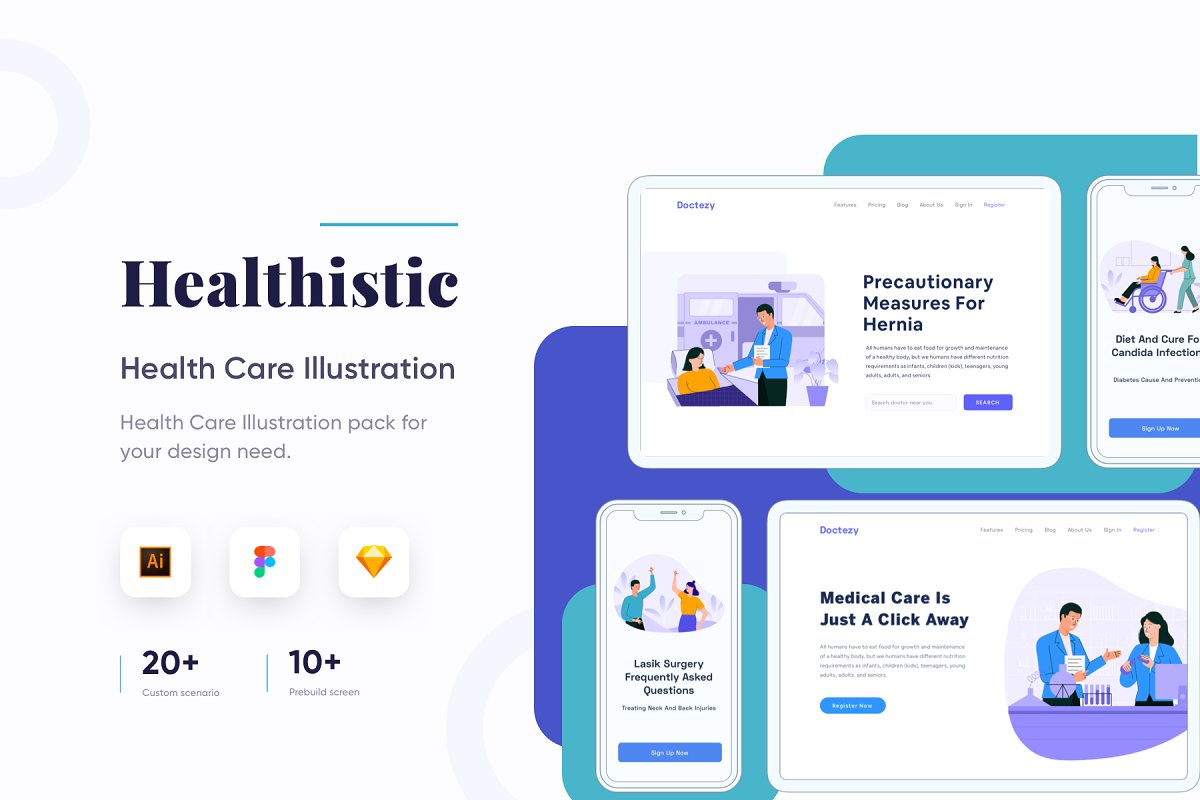 Healthisthic – Healthcare illustration is a high-quality and customable illustrations library.Info / Download Source
"Stay Home, Stay Safe" Poster (EPS, SVG, PNG)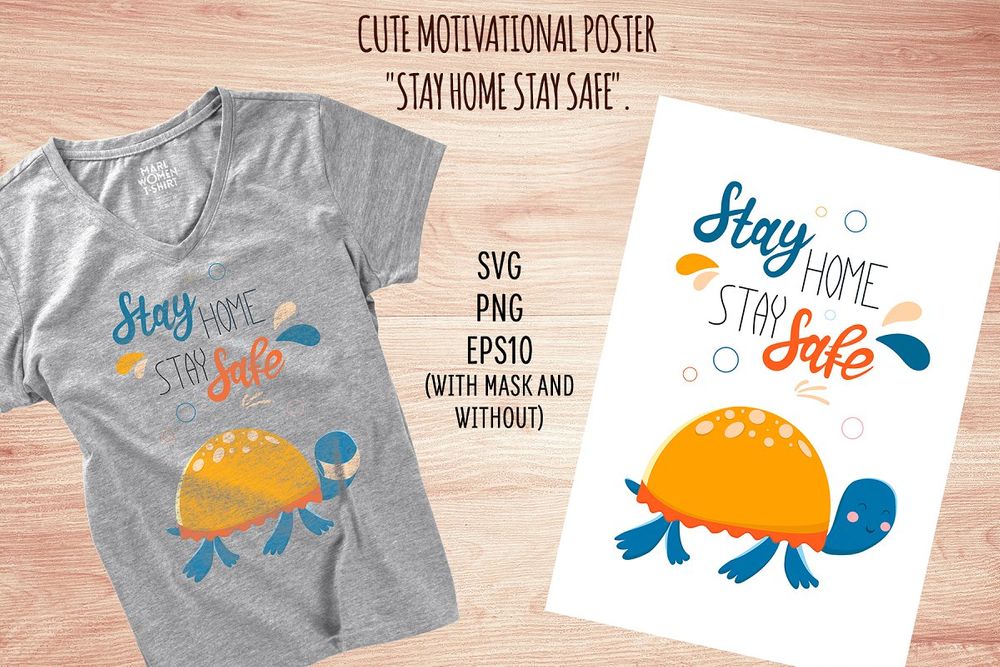 Cute actuality poster with lettering quote "Stay home stay safe". Concept motivational poster of quarantine.Info / Download Source
Virus Icon Set (AI, EPS)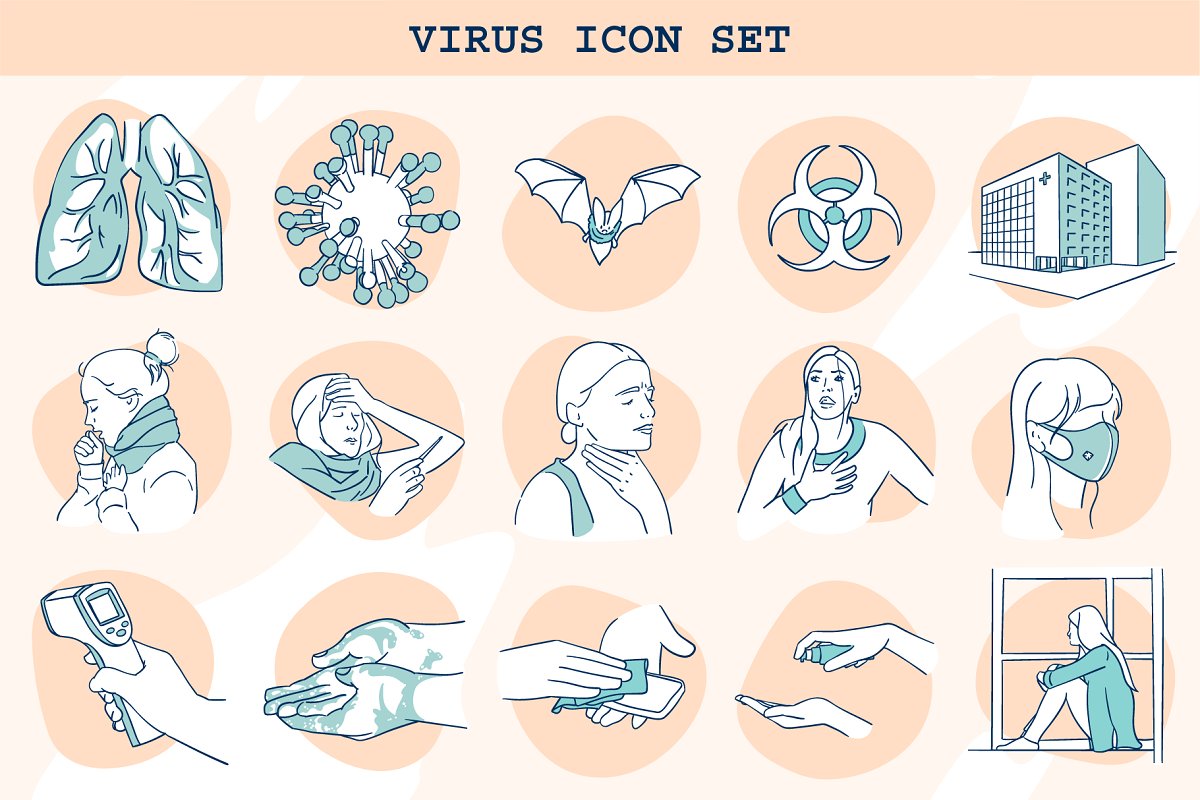 Detailed and coloured health line icons. This bundle of 15 icons is an original, hand-drawn artwork. It is suited to illustrate the Corona-19 and other flu symptoms, causes and prevention cases.Info / Download Source
LOCKDOWN Font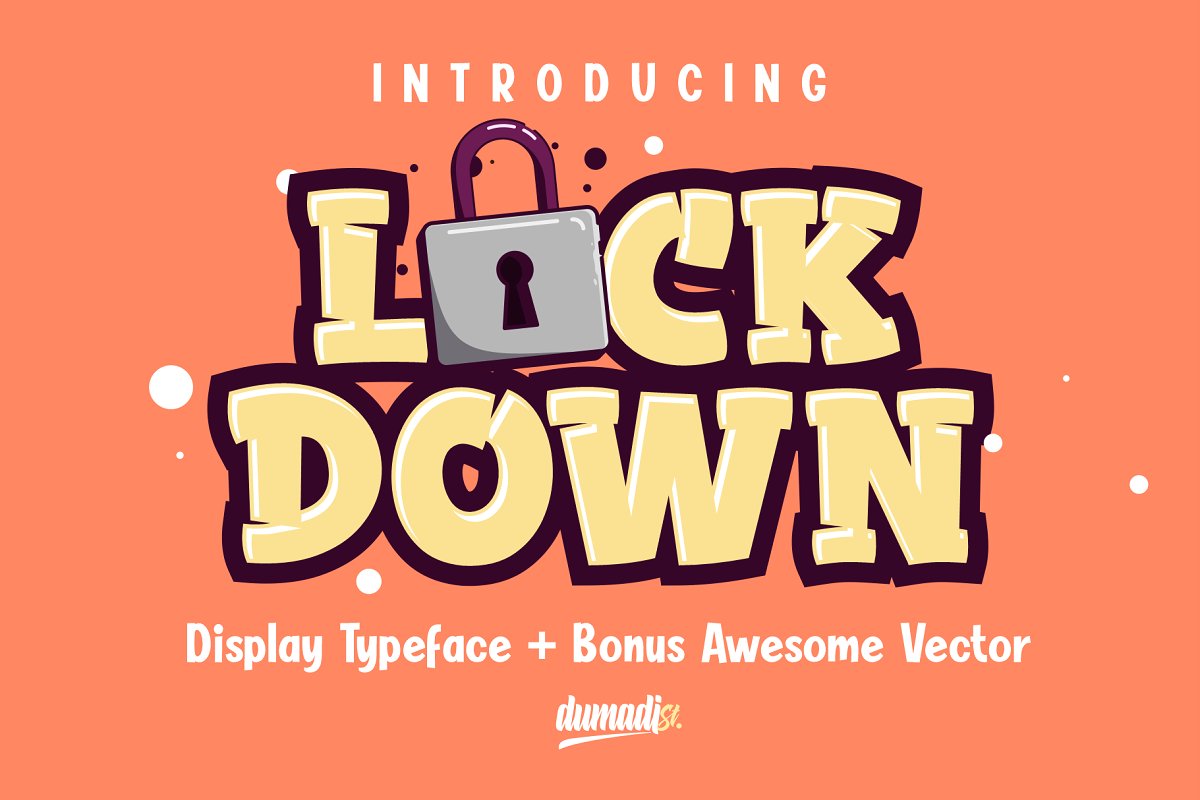 Lockdown is a thick type of display made by hand. with a fun style that can be collaborated with vectors, especially with animal vectors. Lockdown is suitable for various media such as clothing design, poster design, logos and other designs.Info / Download Source
30 Quarantine Pics. Just Stay Home (AI, SVG, PNG)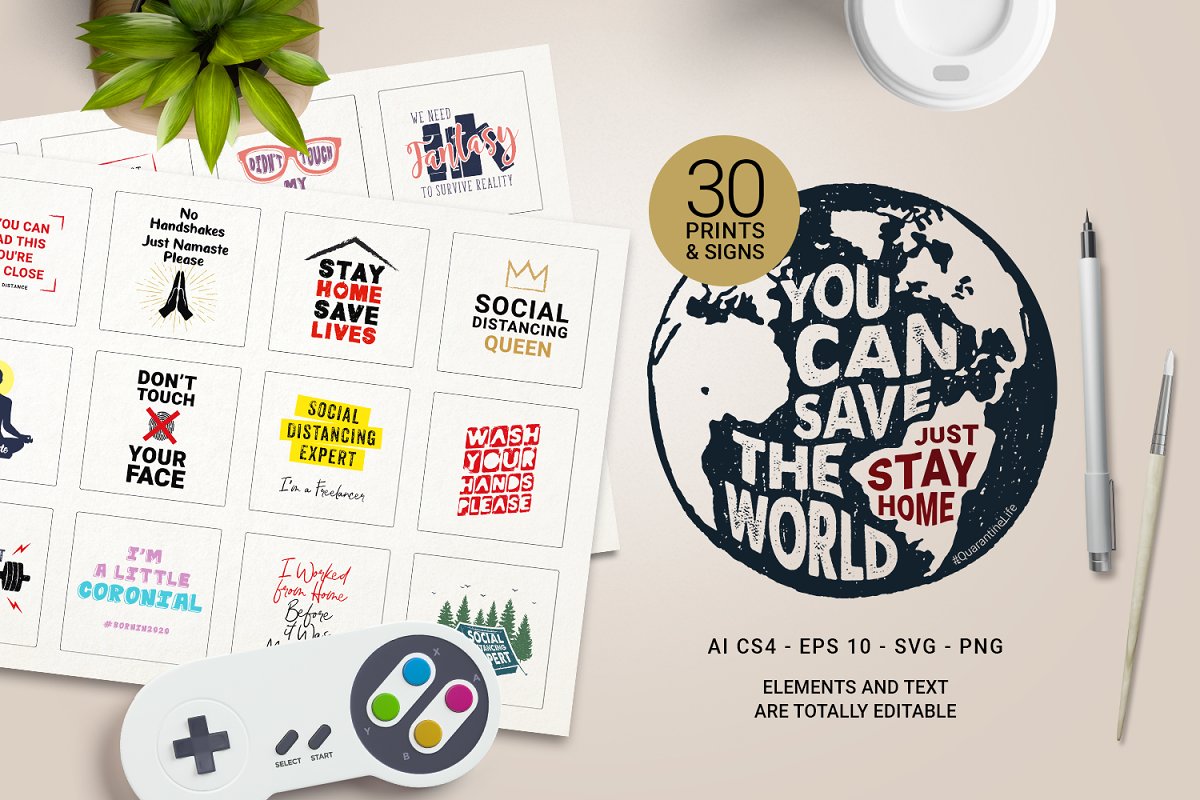 It is the vector pack with creative illustrations and signs about Quarantine. Customize them to fit your own message, or mix them up to create entirely new logos, labels, badges and prints! When creating these illustrations there was no intent to hurt someone's feelings.Info / Download Source
Free Covid 19 Illustration (EPS, SVG)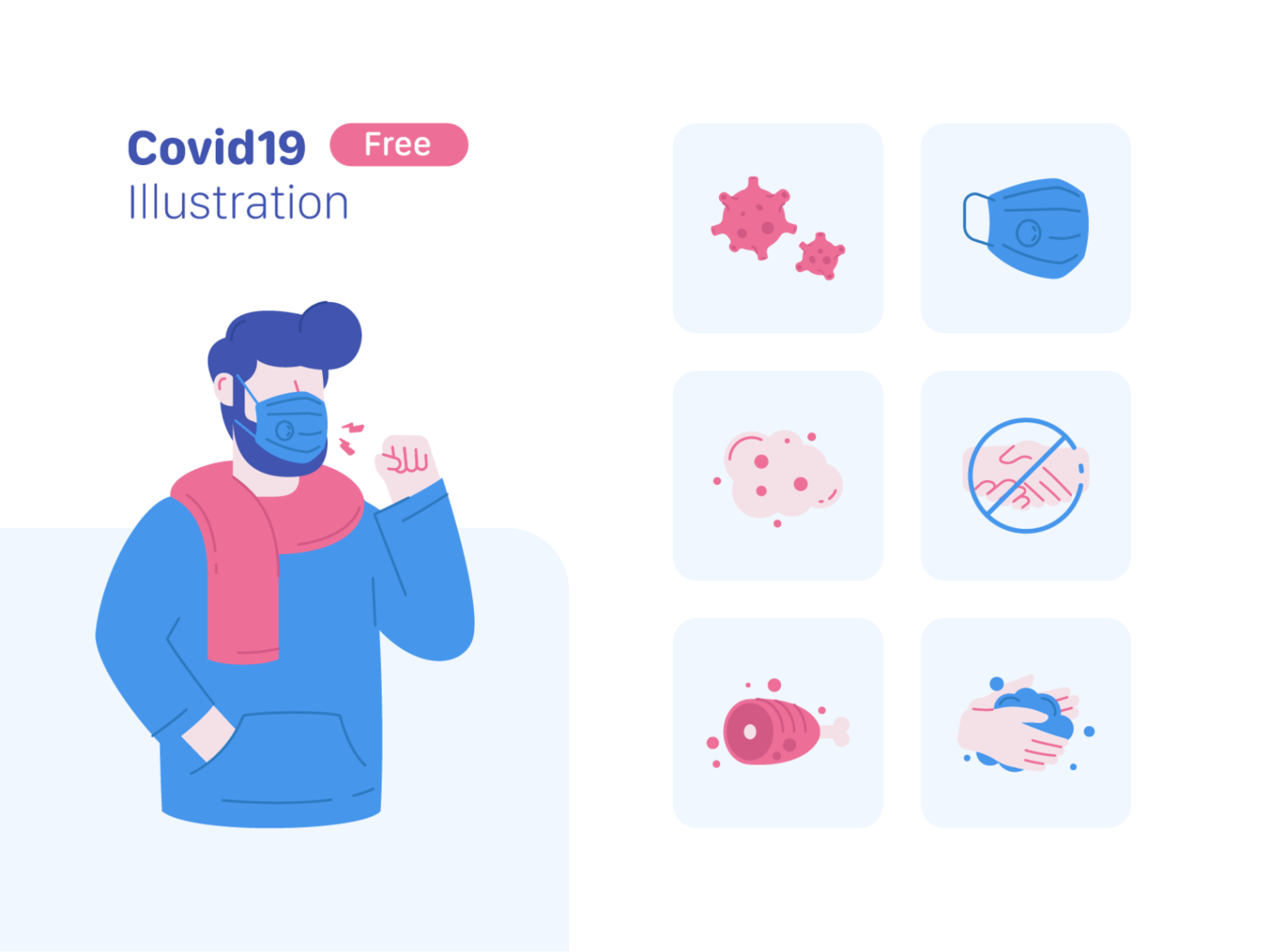 A covid-19 illustration for free, you can use it for personal, social education and other social activities.Download Source
Free Coronavirus Preventin & Informatics (PSD)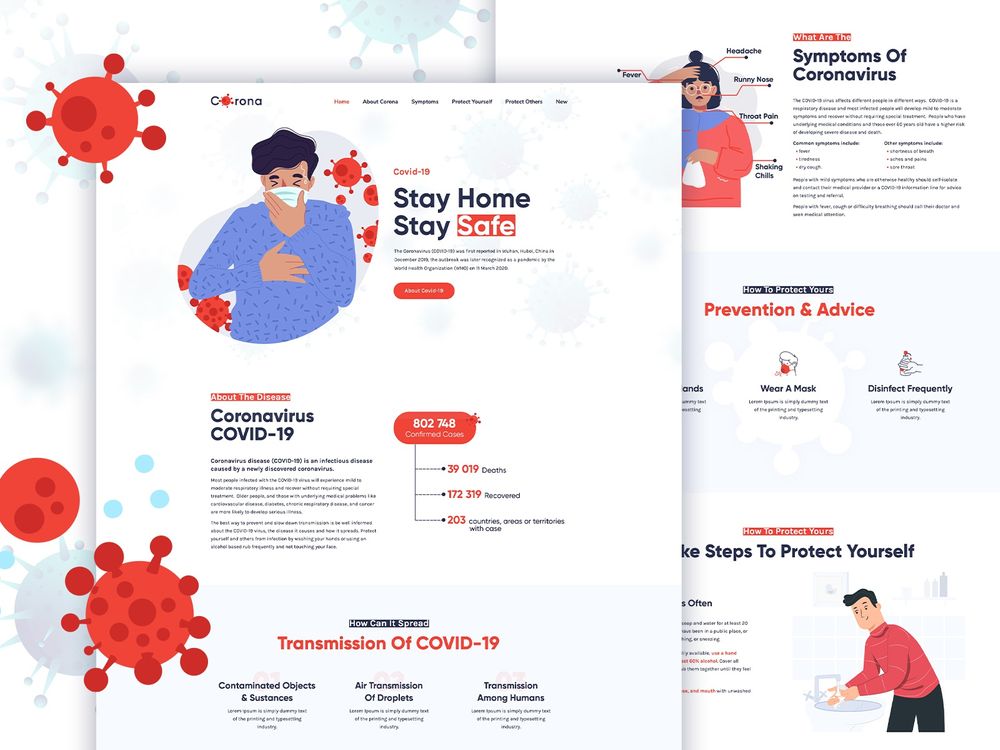 Use the free template and build your site to aware more people to protect their-self as it our social responsibility to aware people about this.Download Source
Free Virus Set (SVG)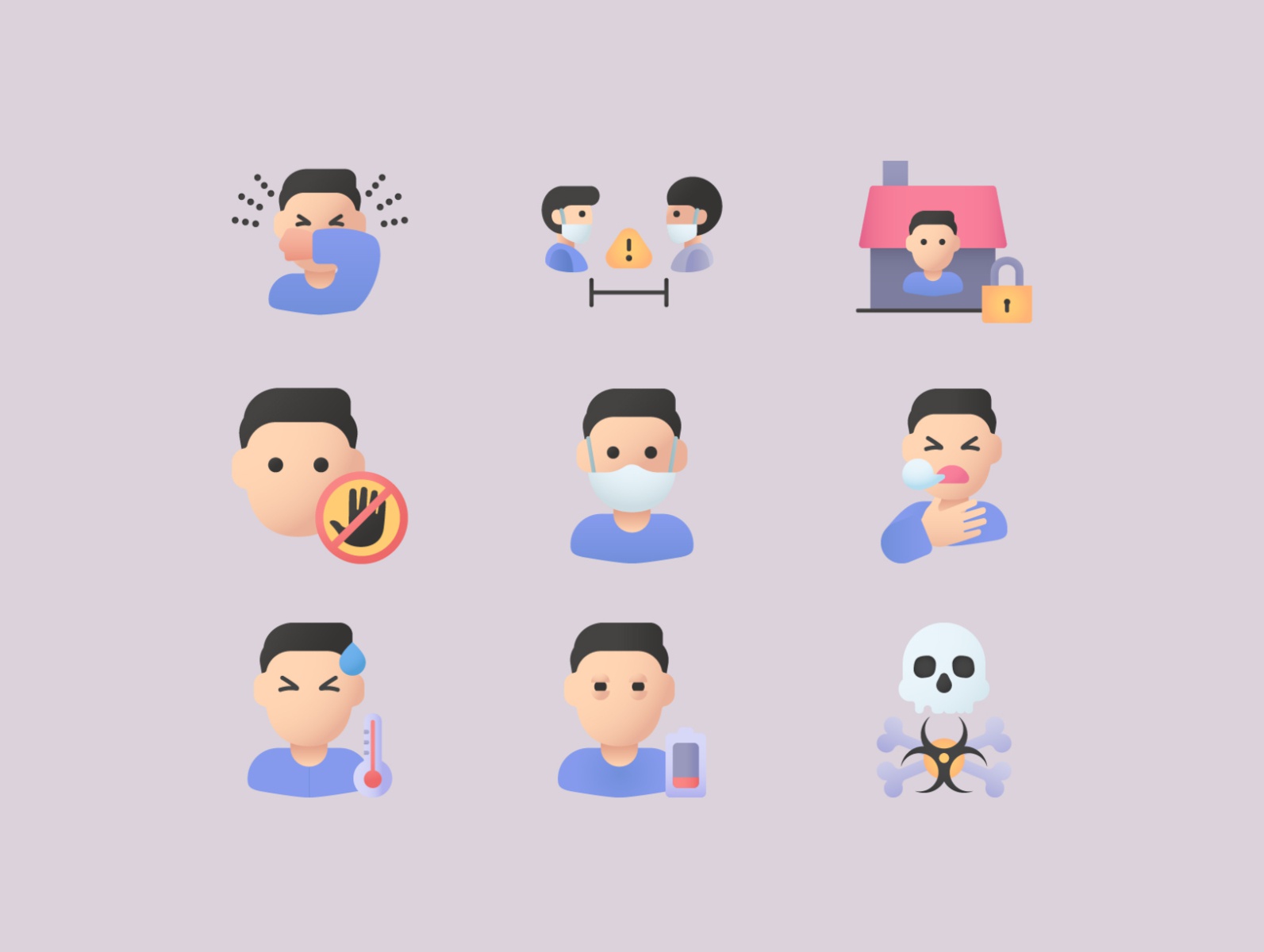 Nice avatar icon collection completely free to use.Download Source
Free Icons Coronavirus (SVG, PNG)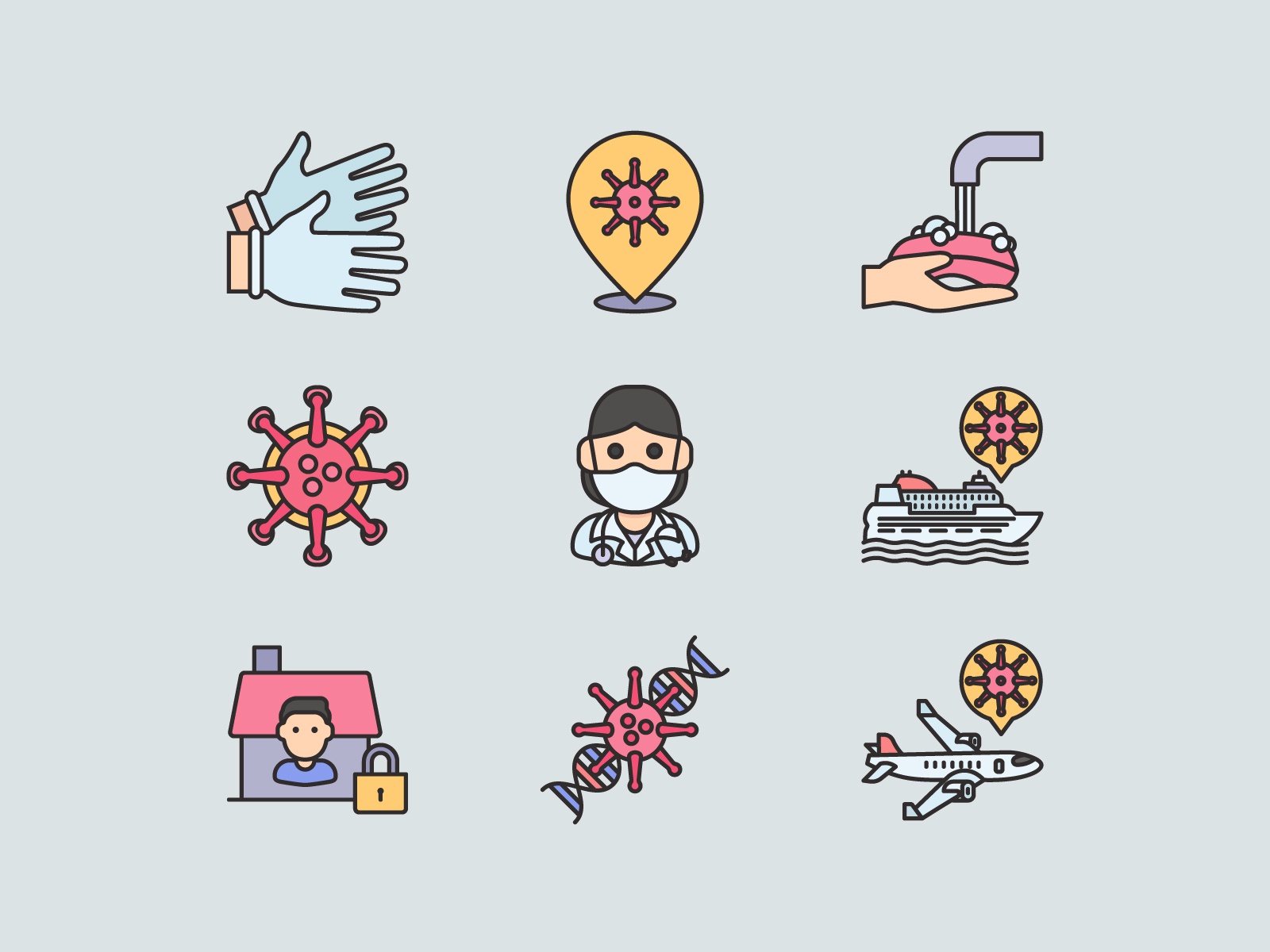 Nice icon set for Coronavirus collection completely free to use.Download Source
Free Virus Ouline Icons (SVG, PNG)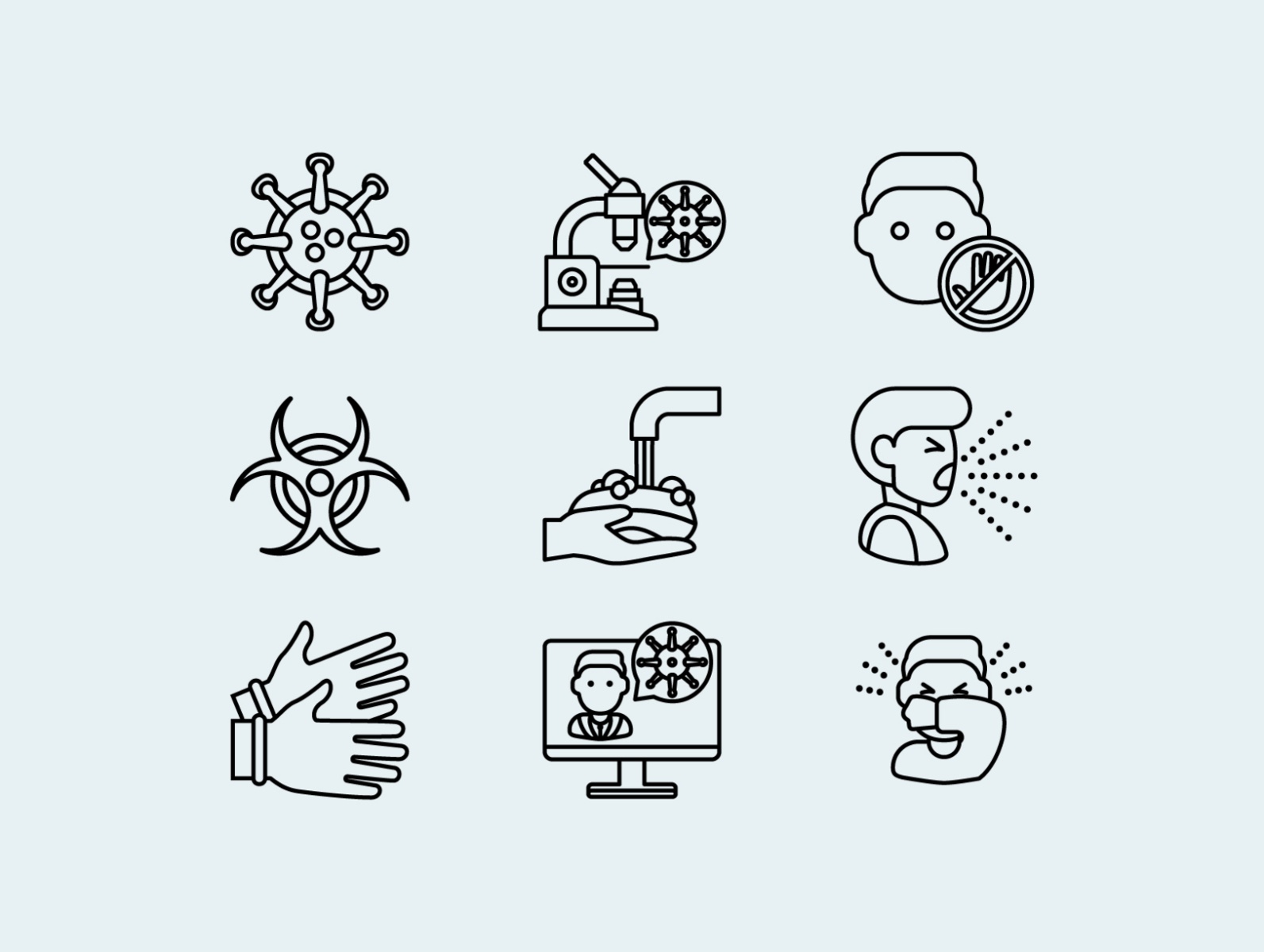 Nice icon set for Coronavirus collection completely free to use.Download Source
30 Free Coronavirus Icon Collection (EPS, SVG)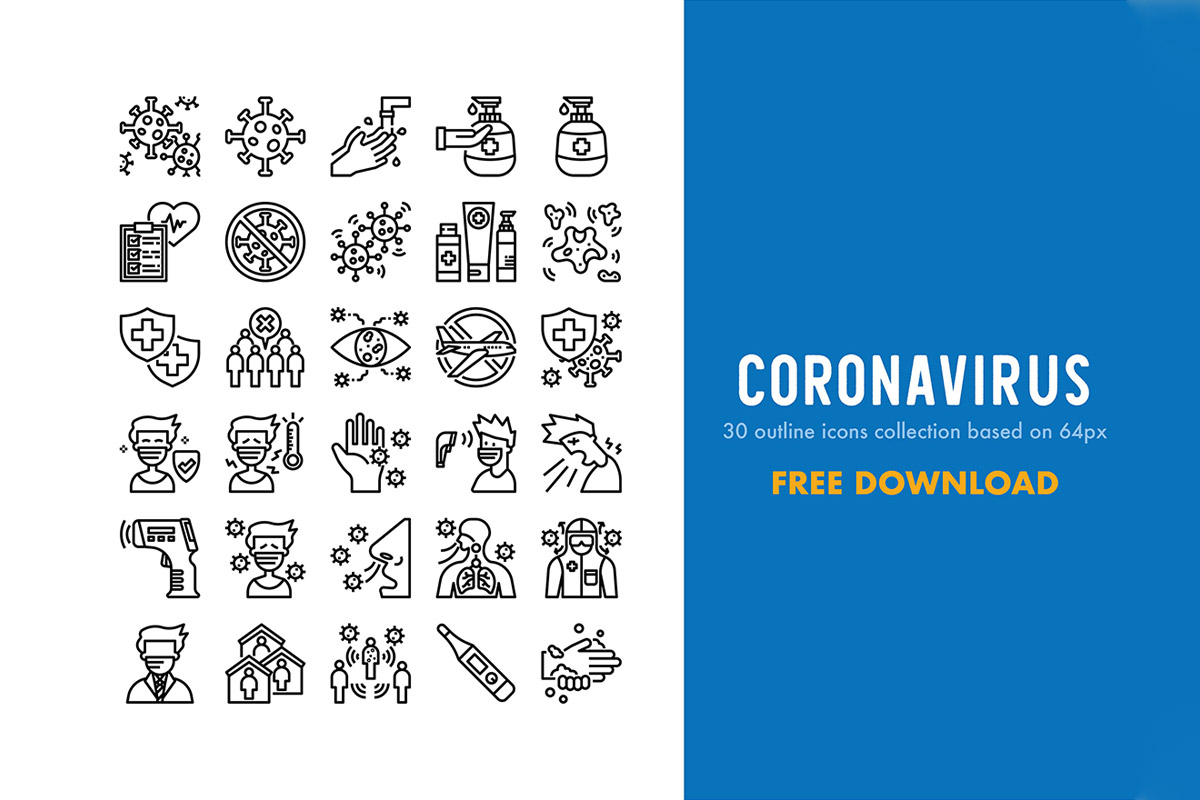 It is a creative and unique pack of corona-virus related icons for your projects. It includes 30 outline EPS & SVG icons which contains transmission, quarantine, virus itself, sanitizer, thermometer gun, travel ban, social distance, preventive measures, medical equipment, patients and doctors, and many others.Download Source
Free Coronavirus Font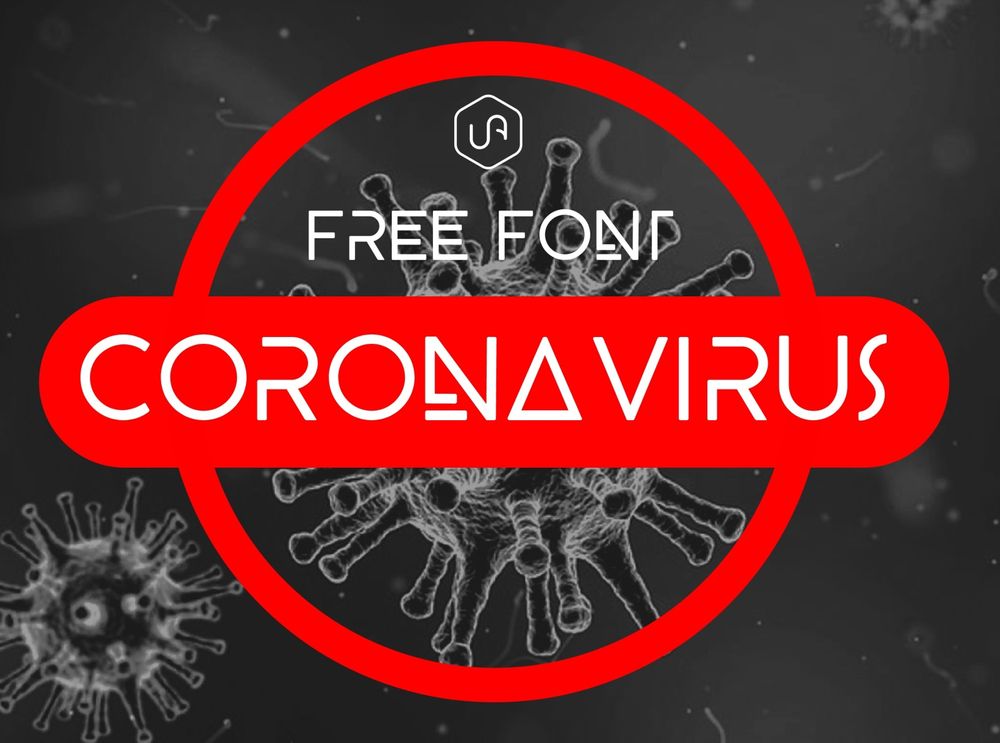 A special made font for Coronavirus which are best for headlines, logos, badges and any other graphic designs. Free to use.Download Source
Free Coronavirus Company Profile Template (AI, PDF)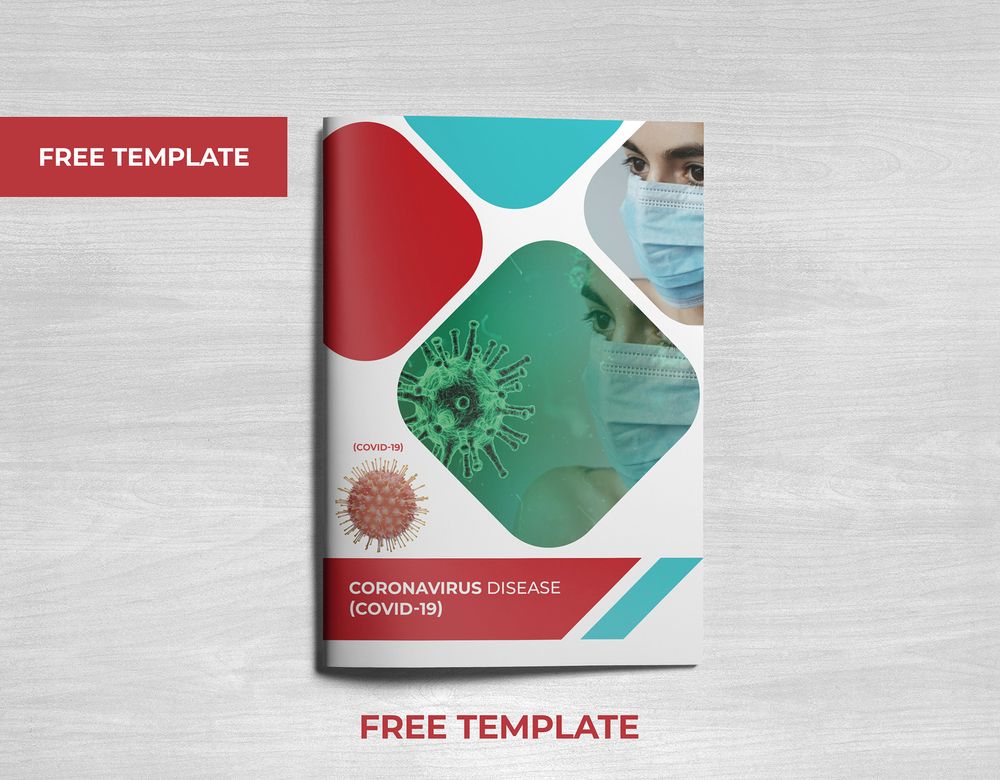 A company profile template for Coronavirus desease. Free to use and simply to edit.Download Source
Free Working from Home Illiustration (AI)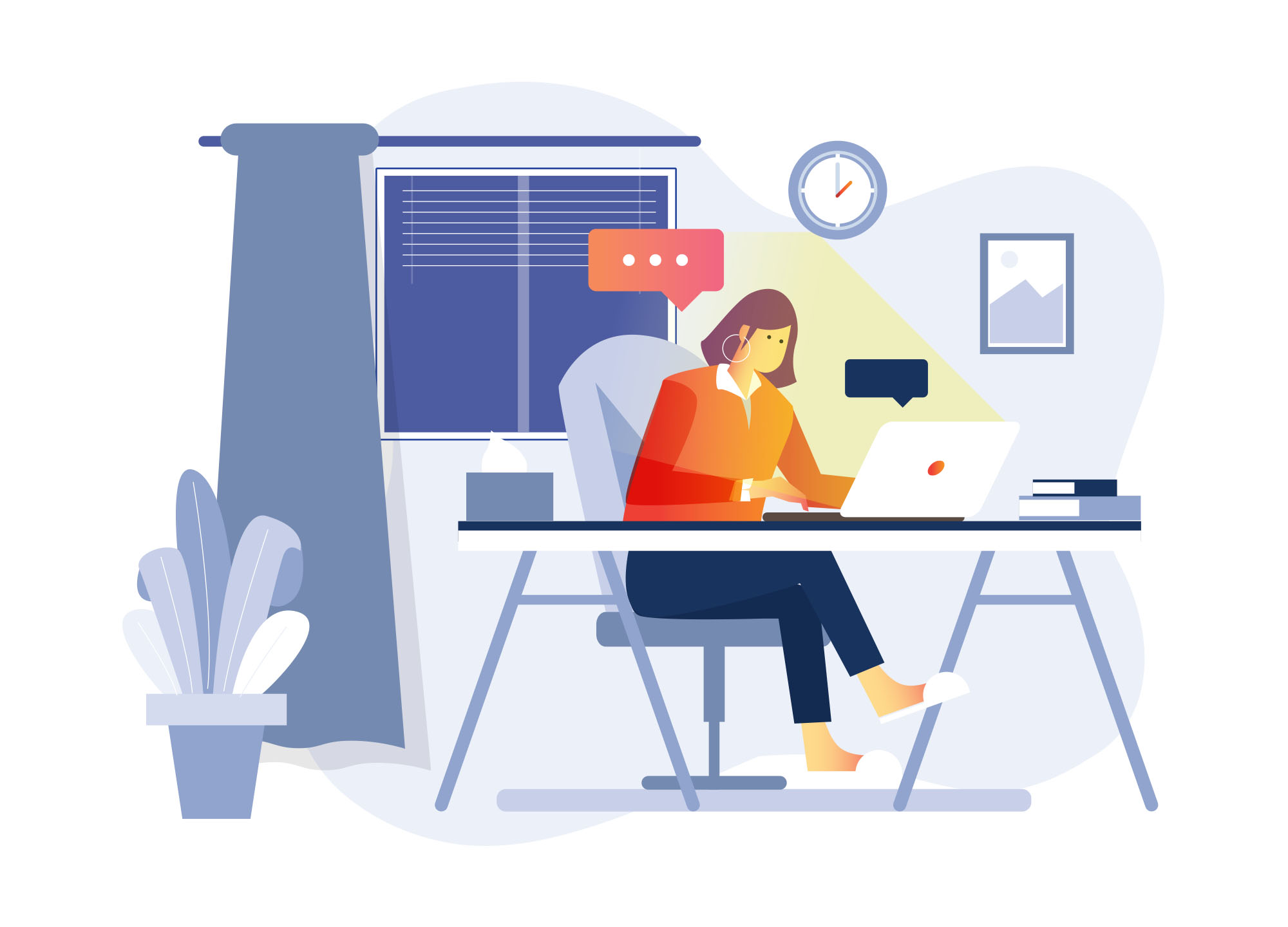 Free to use Coronavirus illustration for your design projects.Download Source
Free Covid-19 Mockup (PSD)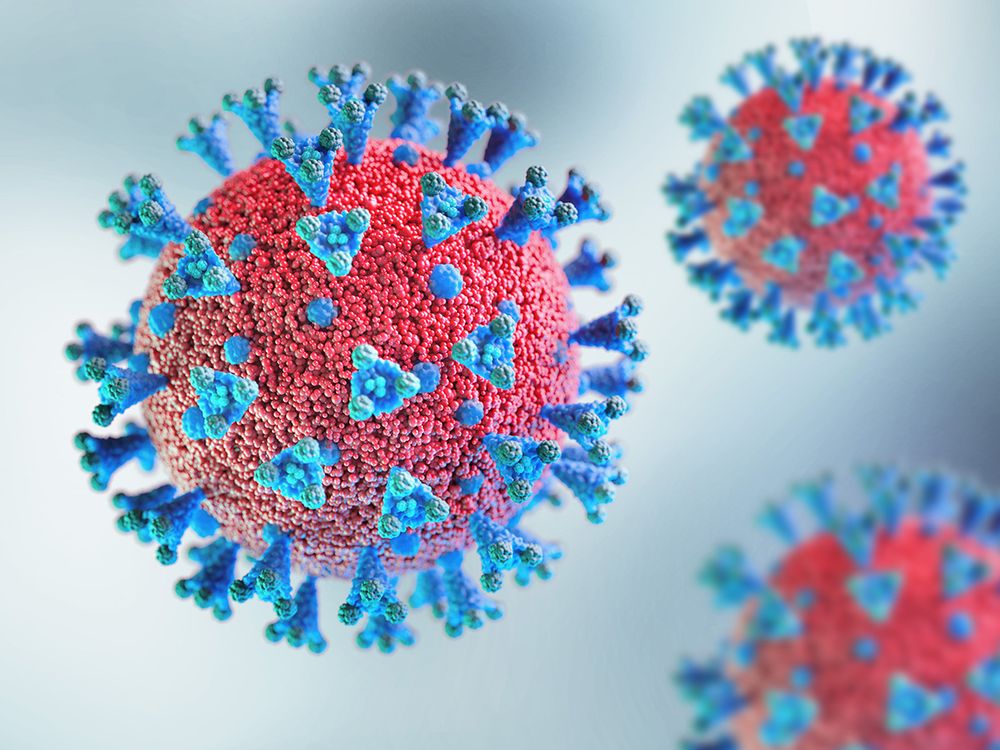 Free Covid-19 graphics. Prepared as separate graphics and final presentation in high resolution PSD file.Download Source
Free Covid-19 Face Mask Mockup (PSD)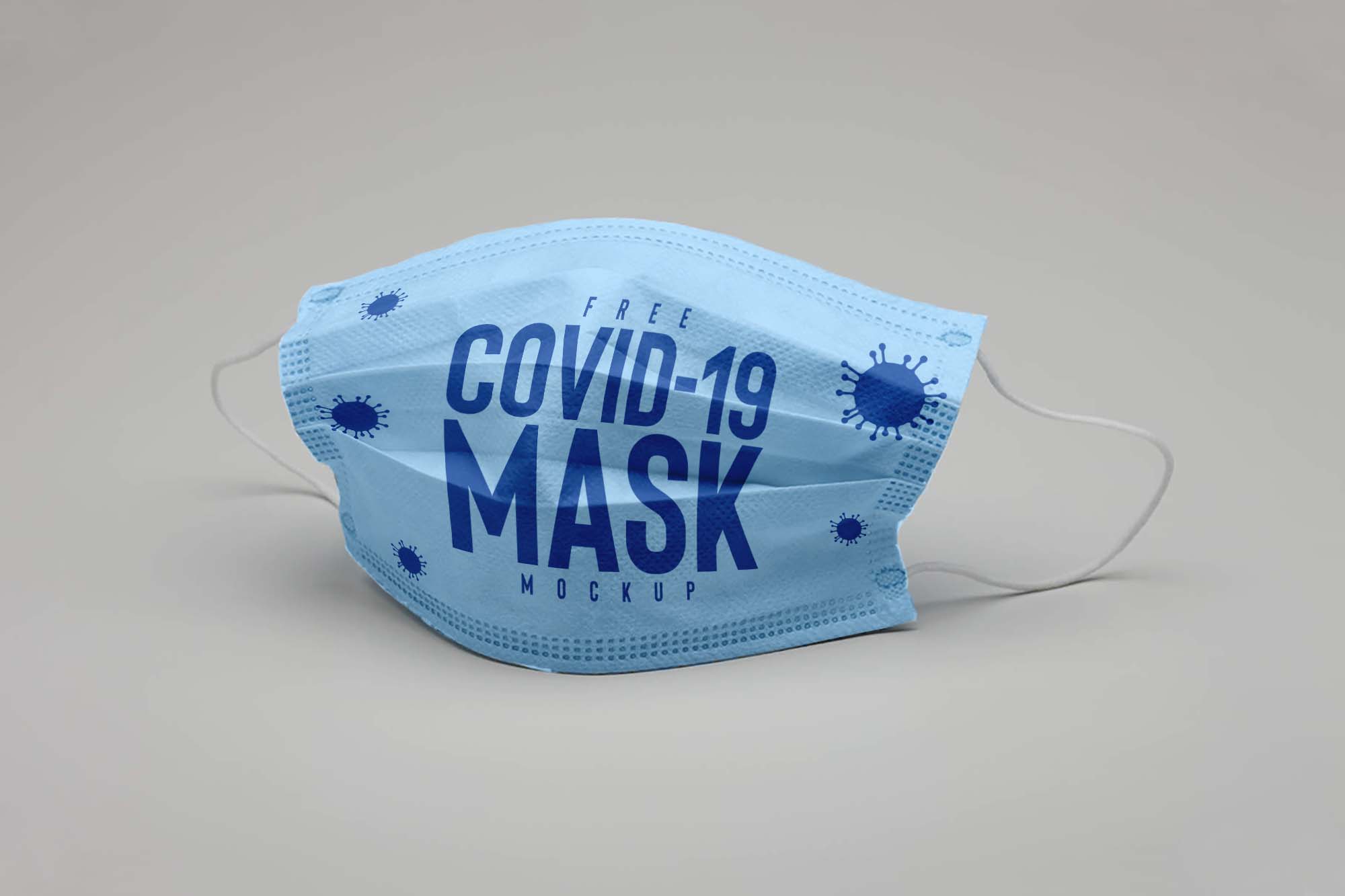 Created in 1200 x 1000 pixels resolution with organized layers and smart objects, the resource can be used for branding purposes with logos of hospitals and medical centers, NGOs, movements, and hashtags.Download Source
Free Covid-19 Pandemic Infographic (AI)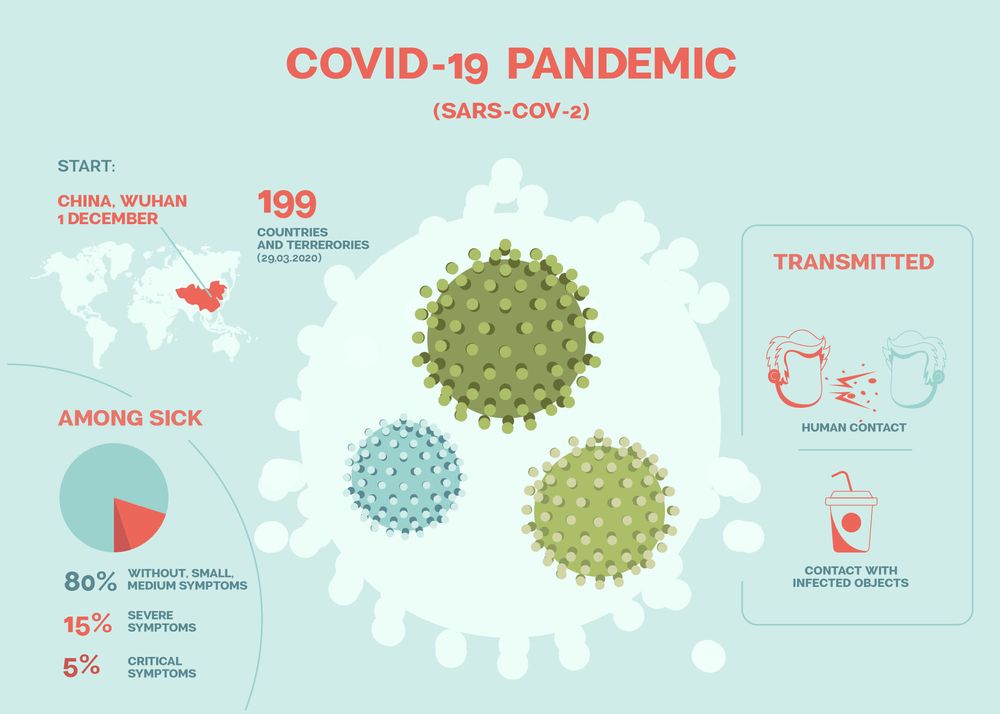 Deliver real-time figures and other important details to people using COVID-19 pandemic infographic. The AI format template is free to download and can be easily customized to your liking.Download Source
100 Free Coronavirus Icon Set (SVG, PNG)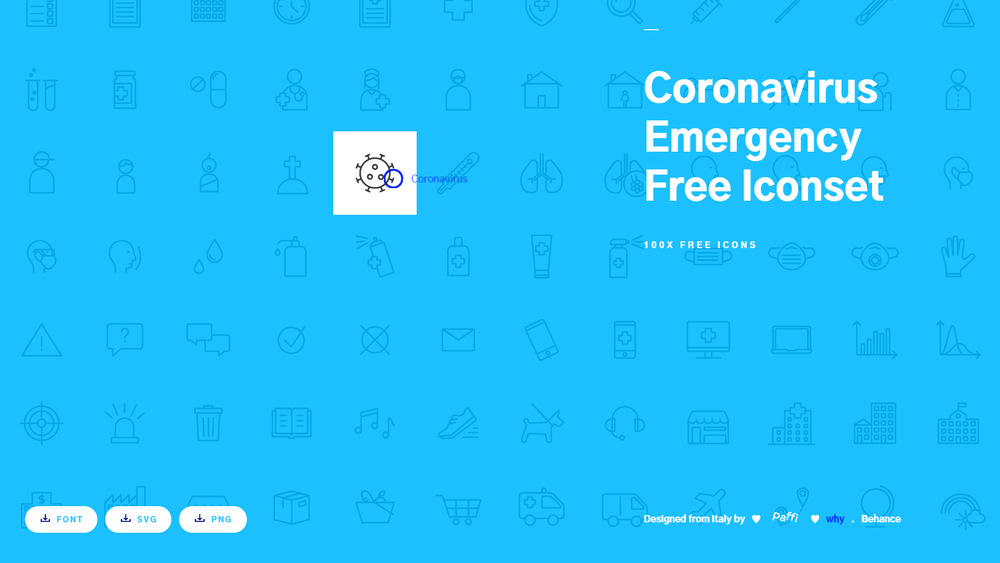 Feel free to use these free icons of Coronavirus to your next design project. Easy to use and edit files as they are in SVG and PNG formats.Download Source
Free Coronavirus Flyer Templates to Download (AI)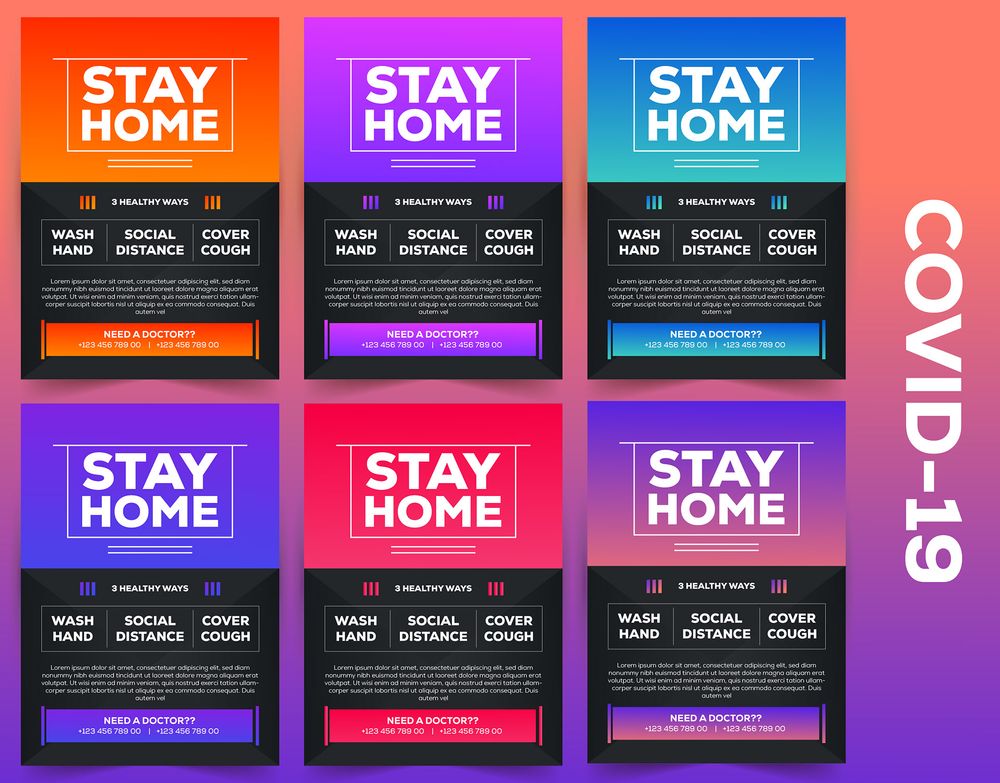 Attractive Coronavirus informational flyer templates created in Adobe Illustrator. It is easy to edit and use.Download Source
Free Icon Set Covid-19 (SVG, PNG)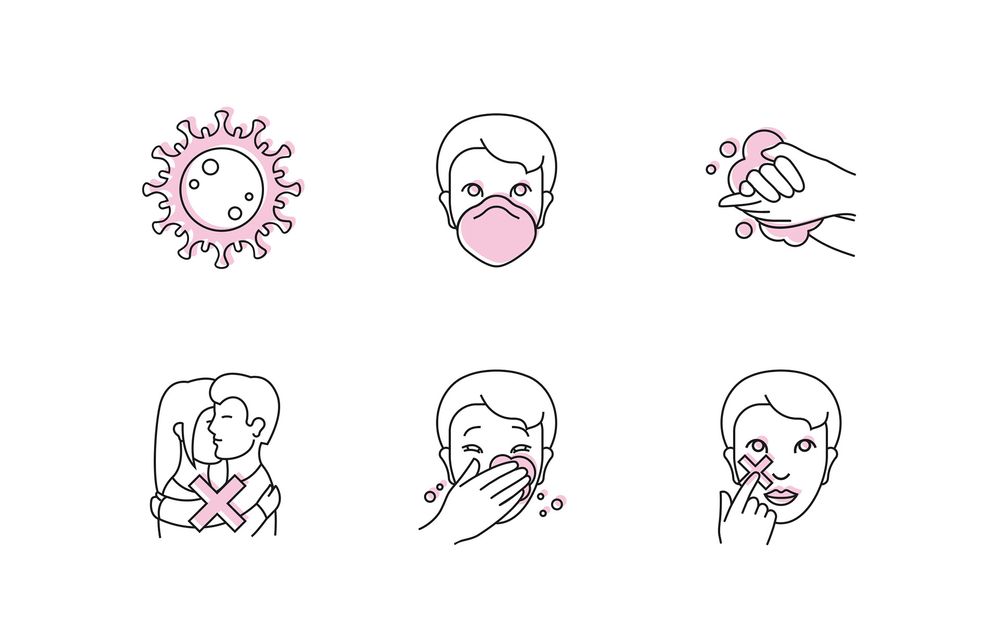 This minimalist free to use icons set special made for Covid-19 infection in two different file formats SVG and PNG. Easy to edit and use.Download Source
Free Corona (Covid-19) Landing Page (Sketch)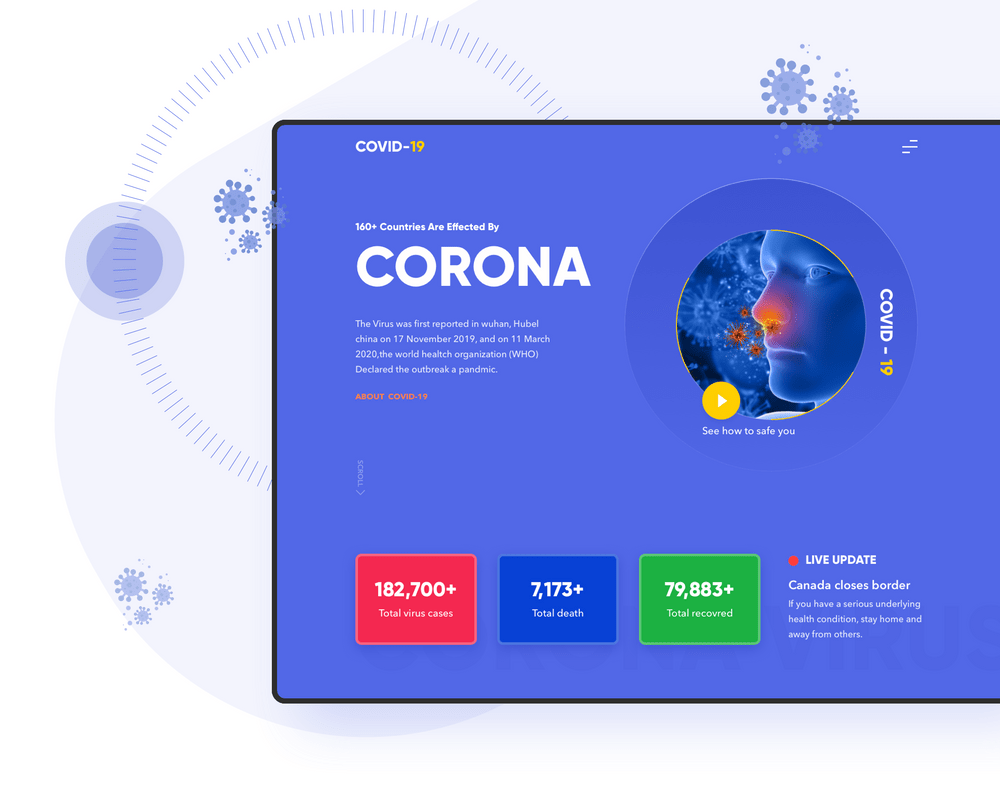 Enjoy this super quality landing page for Covid-19 infection to make a presentation for this desease in Sketch file format.Download Source
Free Covid-19 Virus Backgrounds (EPS)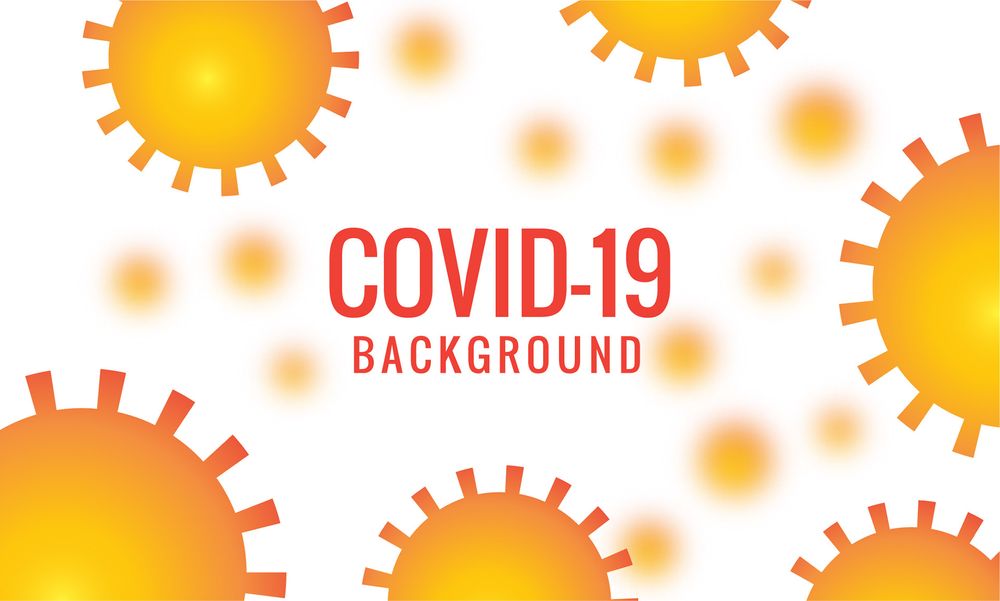 Download these free vector backgrounds in EPS file format and use in your design projects.Download Source
Free Covid-19 Wallpapers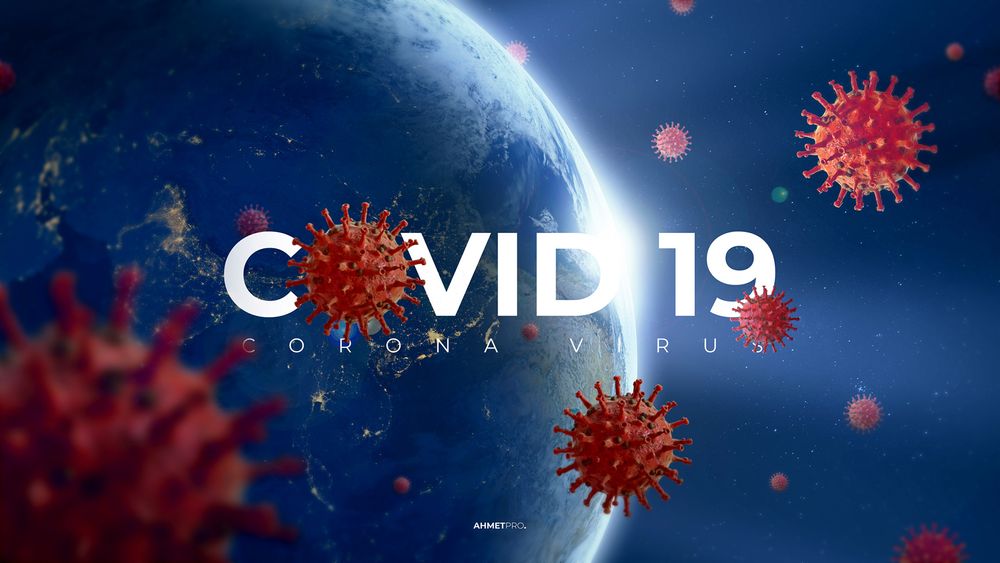 Free Covid-19 wallpapers for your mobile or desktop.Download Source
COVID-19 Symptoms (AI, EPS)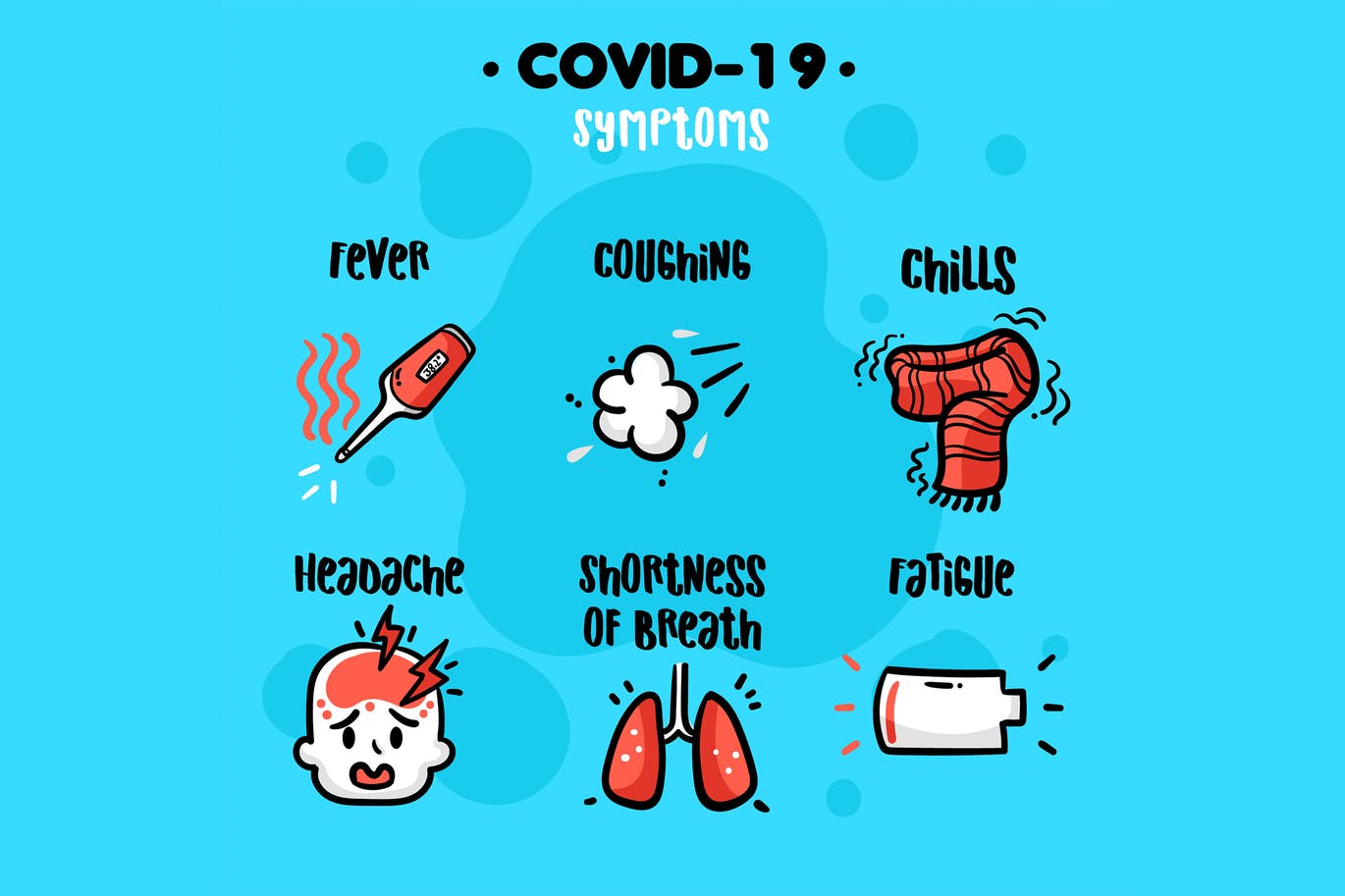 Coronavirus symptoms illustration for your design and work.Info / Download Source
Virus Epidemic Coronavirus Isometric Icons Set (AI, EPS, SVG, PDF, PNG)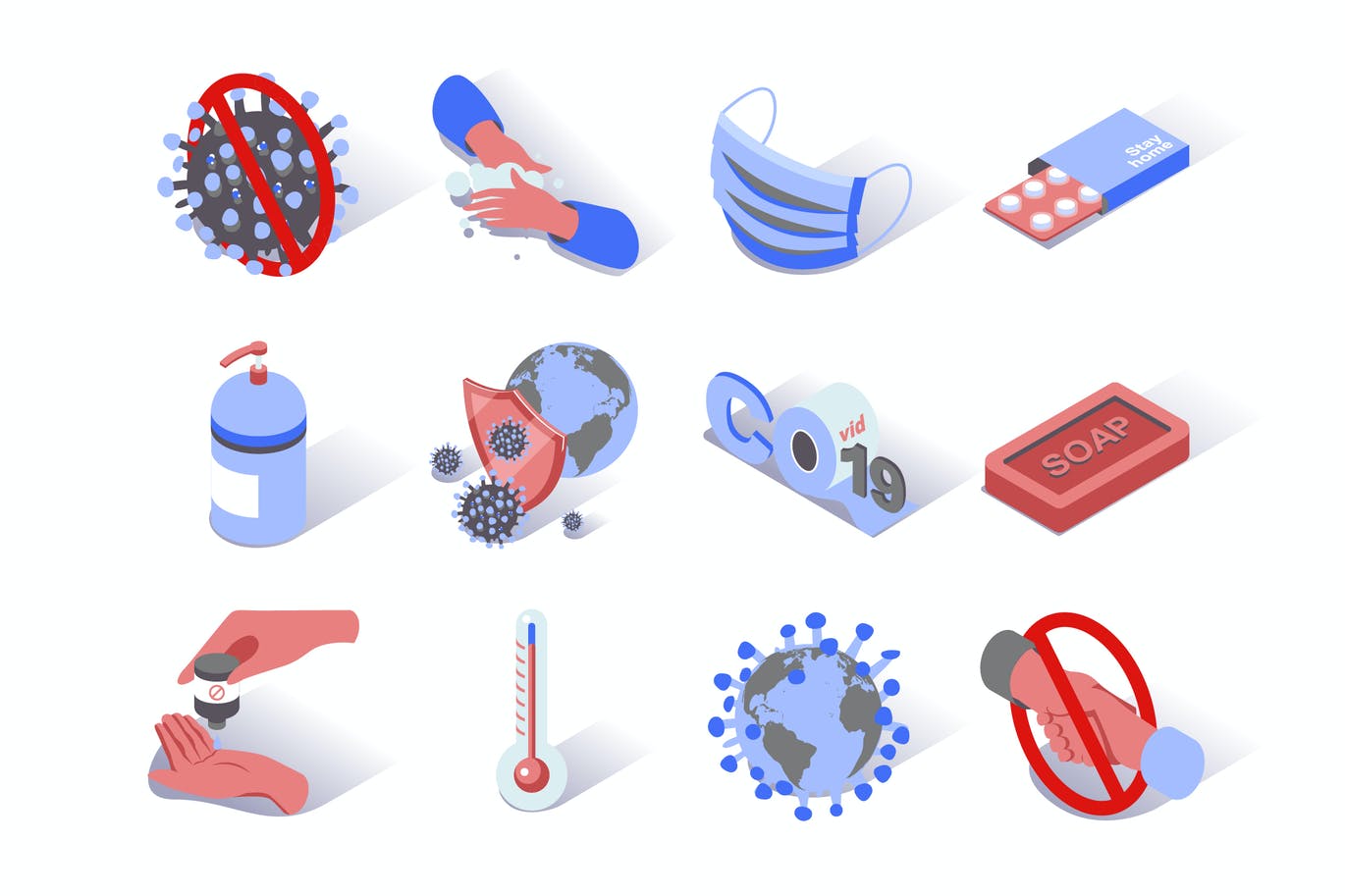 Virus epidemic isometric icons set. Soap, safety mask, antiseptic and pills pictograms. World hygiene and quarantine. Hand washing and handshake prohibition. Coronavirus infection 3d vector isometry.Info / Download Source
15 Vector Set of Coronavirus 3D Geometric Concept (EPS, JPG)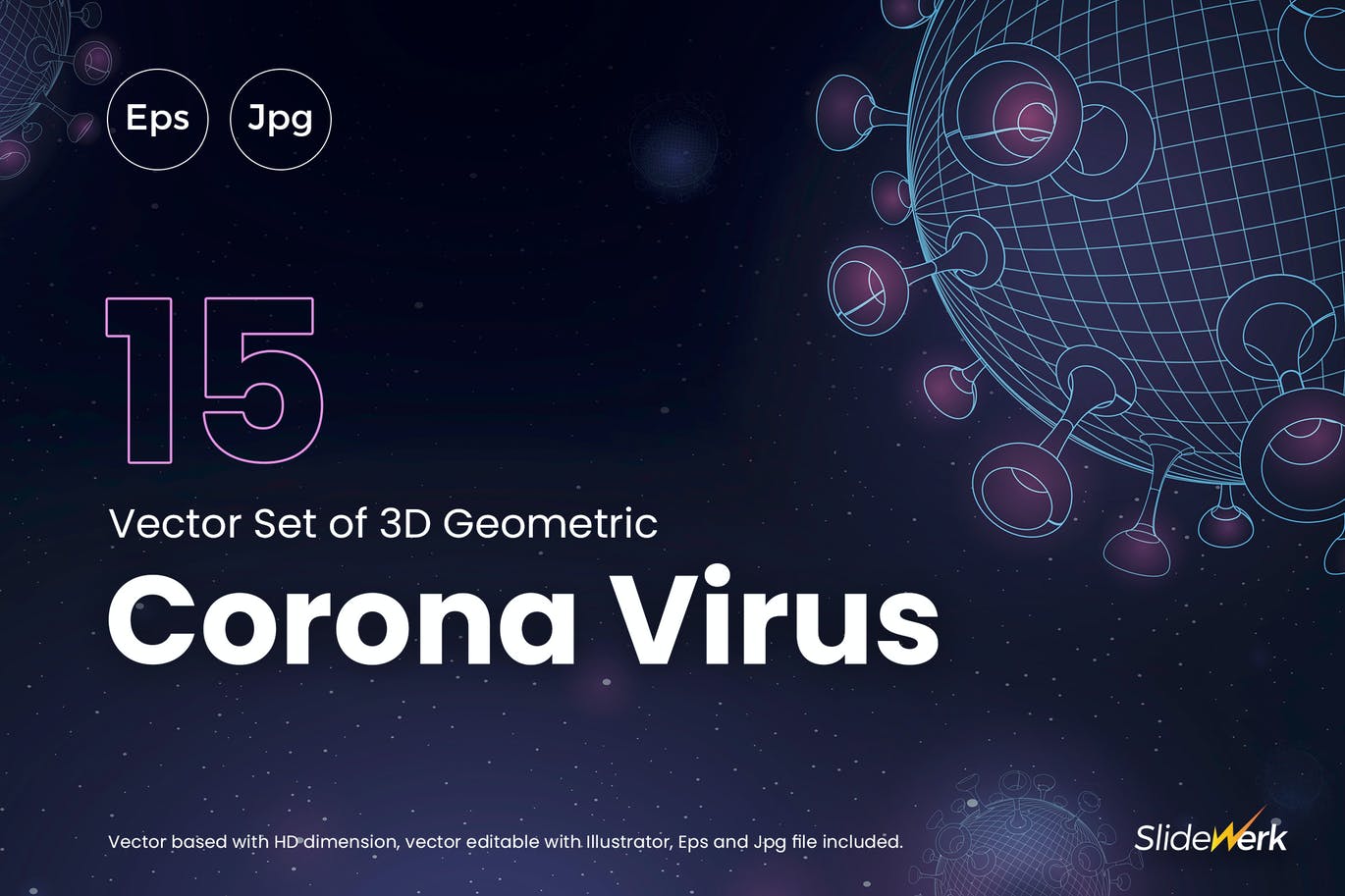 15 geometric 3D vector illustration about the new Corona virus in EPS and JPG file formats. Easy to use for your designs.Info / Download Source
Covid-19 Virus and Medicine – Isometric Web Banner (EPS, JPG)
Colorful isometric web banner with copy space for text. A composition with virus, lungs, pills and magnifying glass. Medical research, healthcare and prevention ideas.Info / Download Source
Scene Creator Battle the Coronavirus (AI, EPS, SVG, PDF, PNG)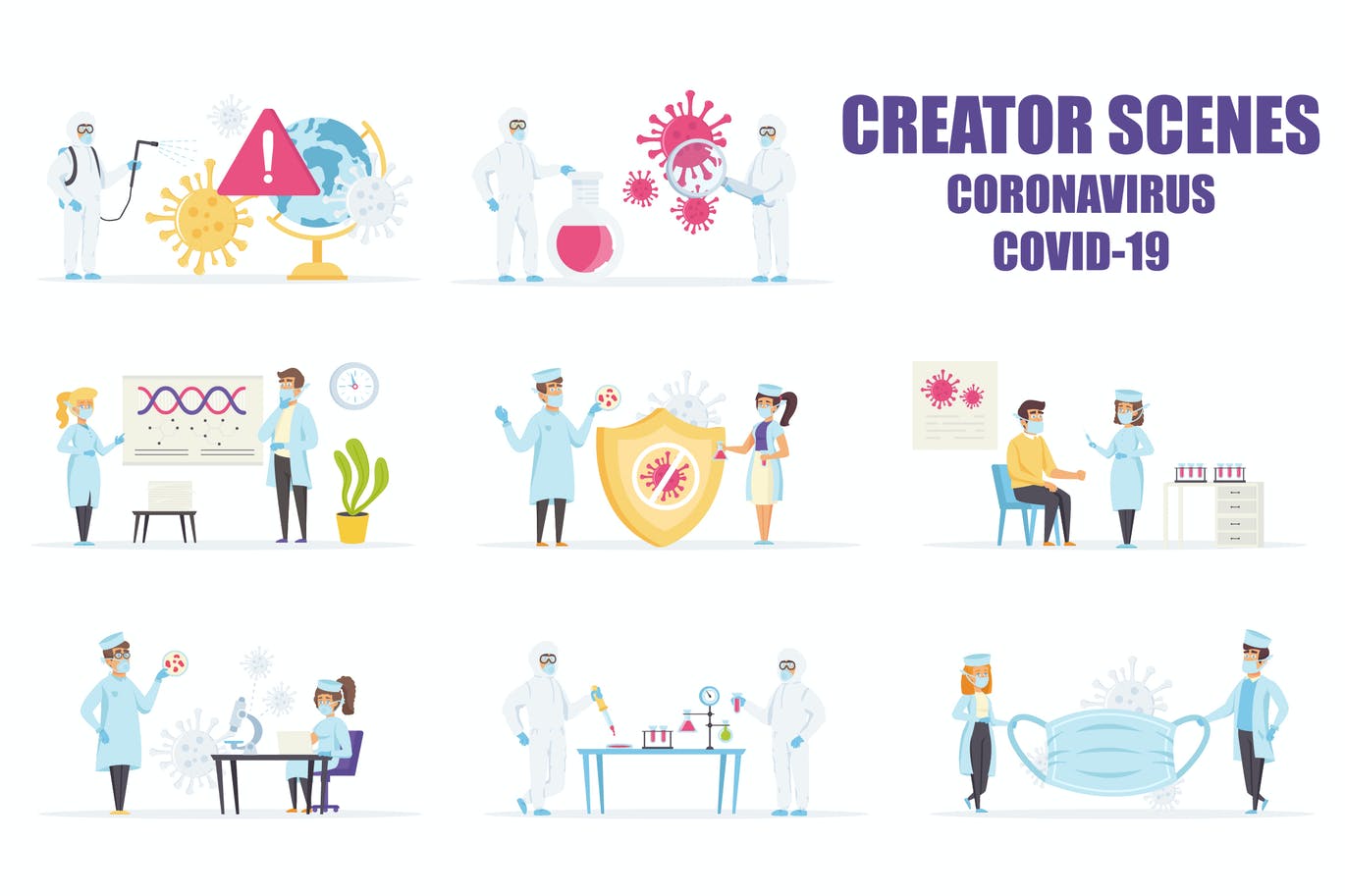 Battle the coronavirus pandemic. Medical activities to prevent any diseases and viruses. Laboratory research and vaccine development vector illustration. Coronavirus quarantine and disinfection scenes.Info / Download Source
Hand Wash Icons (AI, EPS, PNG)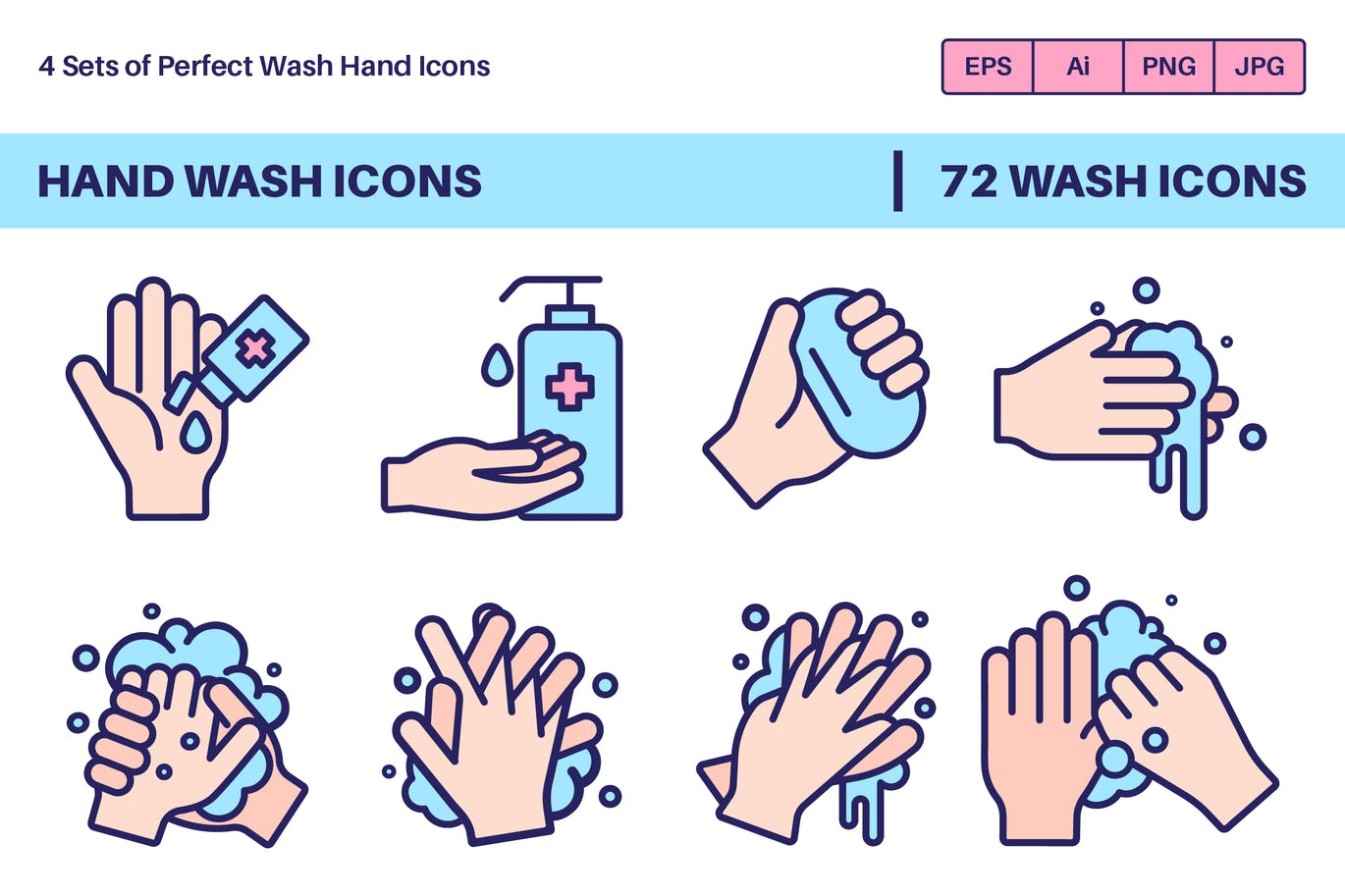 This icons set available in 4 different styles (lineal, lineal color, filled, flat). Premium quality icon collection.Info / Download Source
Hand Wash Illustration (AI, EPS, SVG)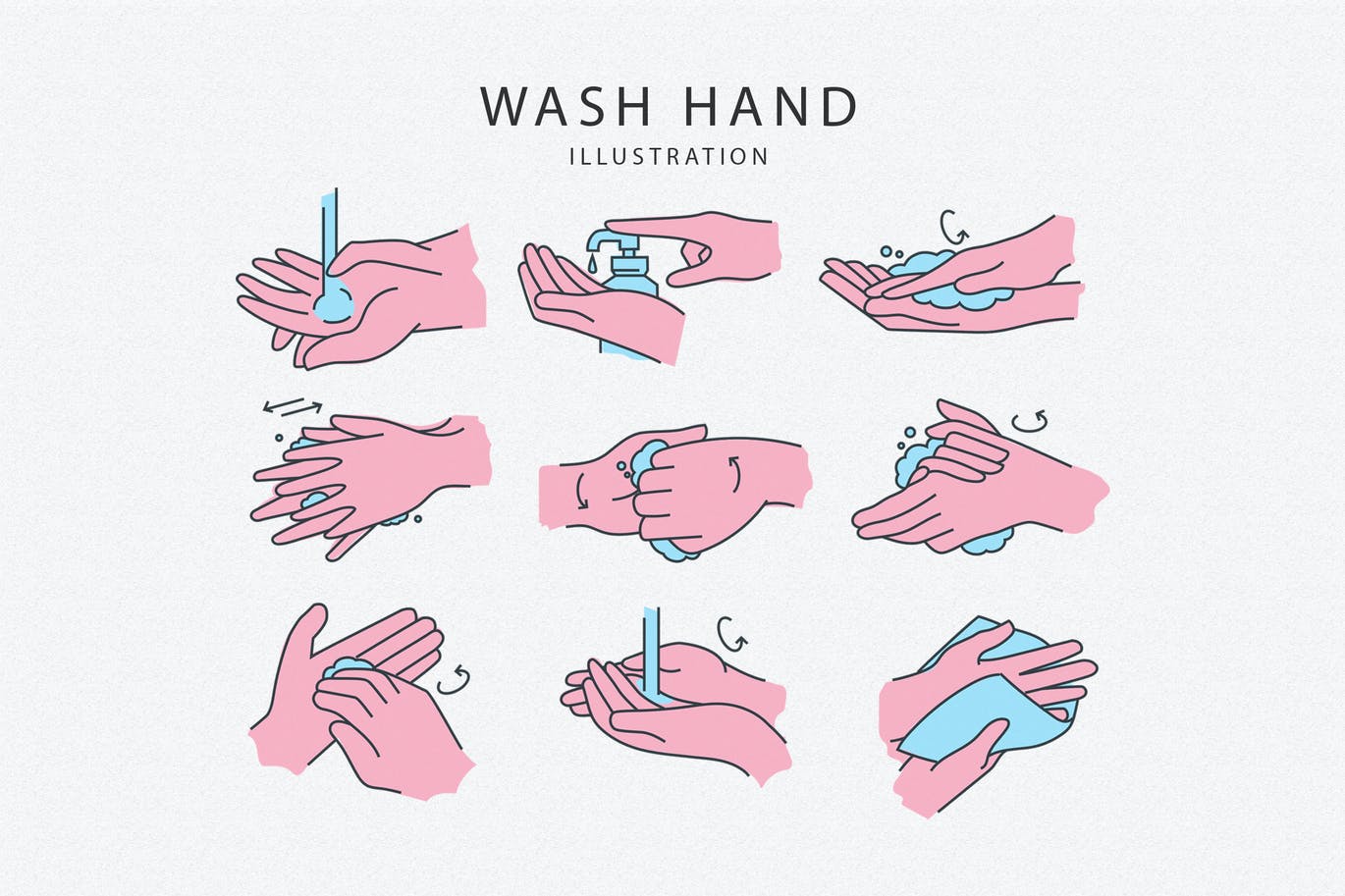 The illustration showing how to wash your hands correctly.Info / Download Source
30 Covid-19 Icon Set (AI, EPS, SVG, PNG)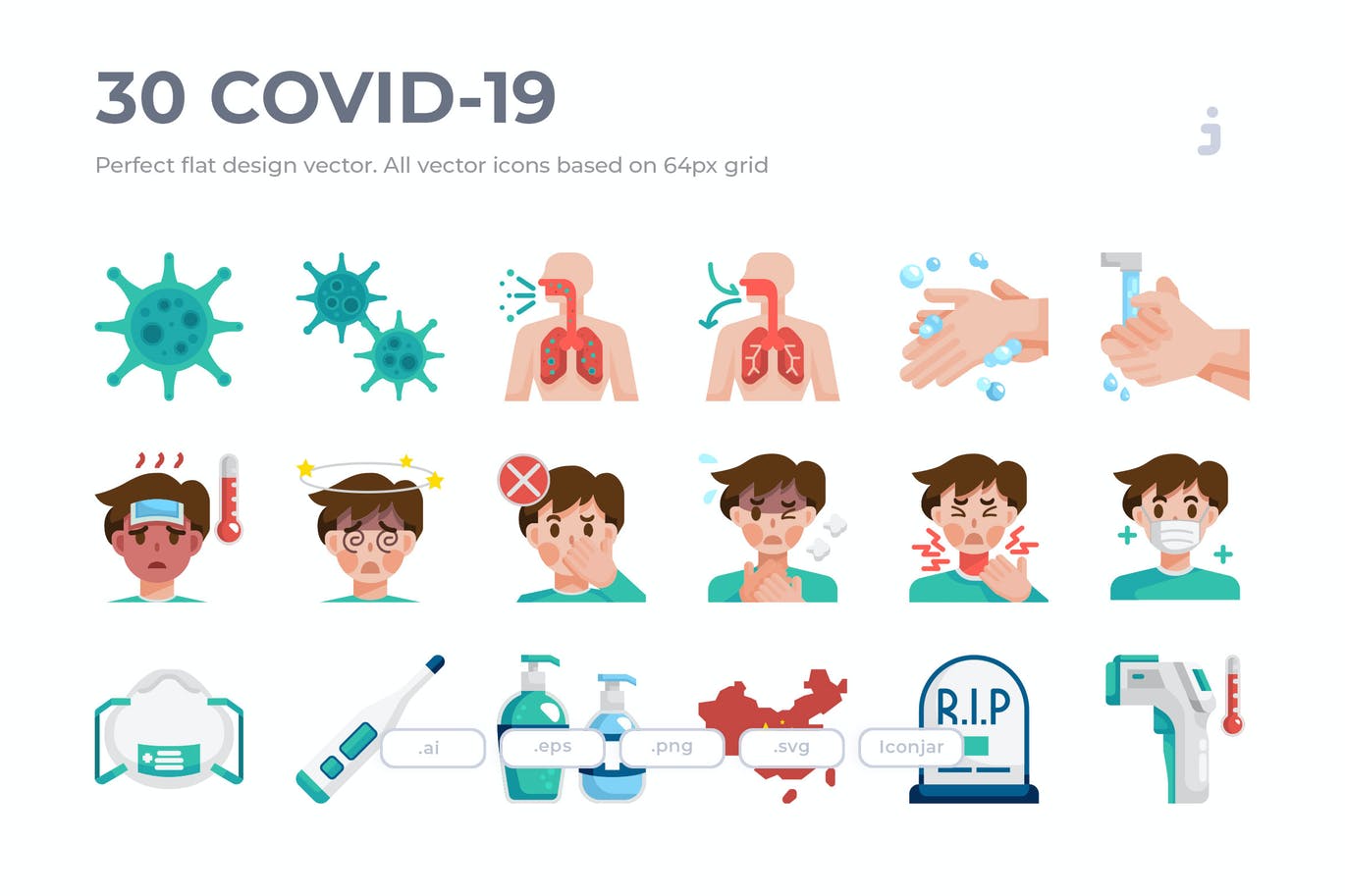 30 amazing Covid-19 flat icons to make your design more rich in visualisation.Info / Download Source
Covid-19 / Corona Virus Icons (AI, EPS, JPG)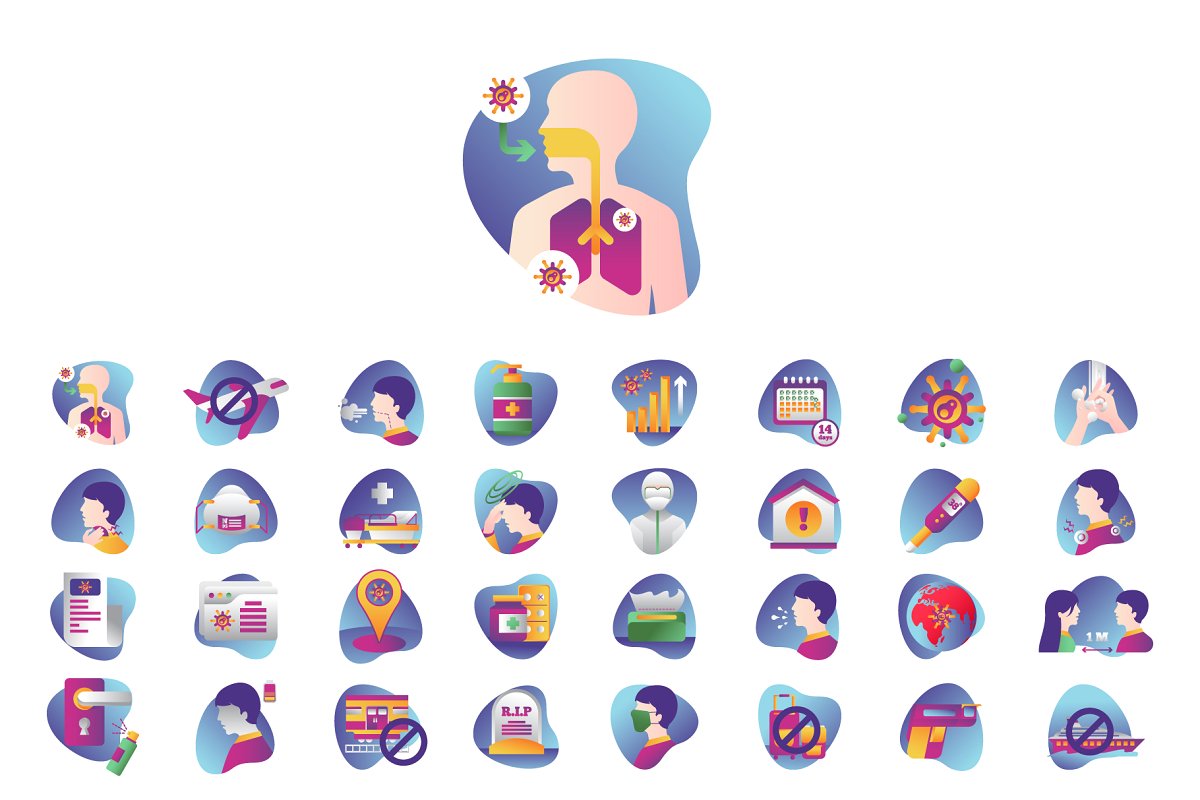 Covid-19 / Corona Virus Icons, vector isolated with separated icon each file, all of the elements are really editable and scalable, don't worry about bad quality, you can enlarge those elements as large as you want.Info / Download Source
Watercolor Virus Clip Art (PNG)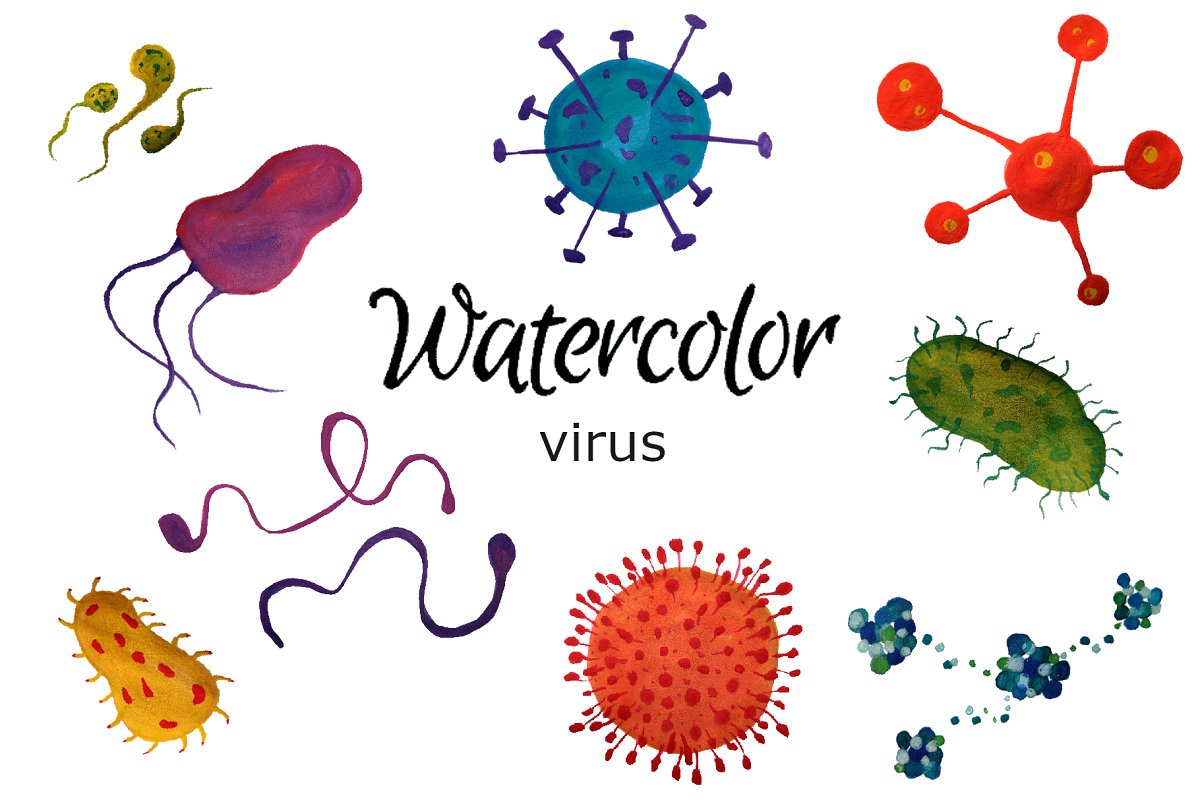 Watercolor clipart set. Perfect for scrapbooking, card making, graphic design and lots more.Info / Download Source
3 Stop Virus Sign Illustration Pack (AI, EPS, SVG, PNG)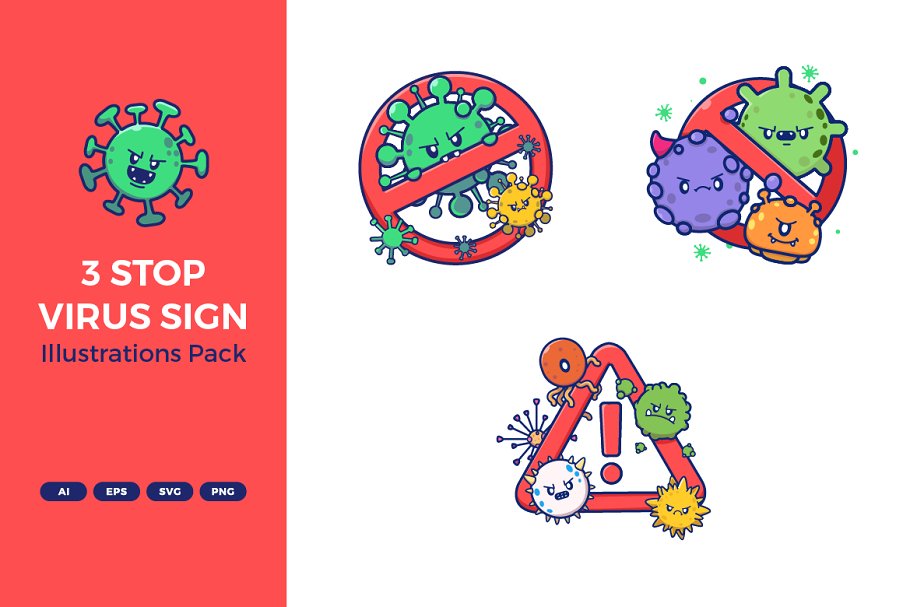 This set illustration is perfect for your digital or print projects. Suitable for print, web, apps, & infographics. Perfection in details and consistency.Info / Download Source
Coronavirus Covid 19 Flyer Template (PSD)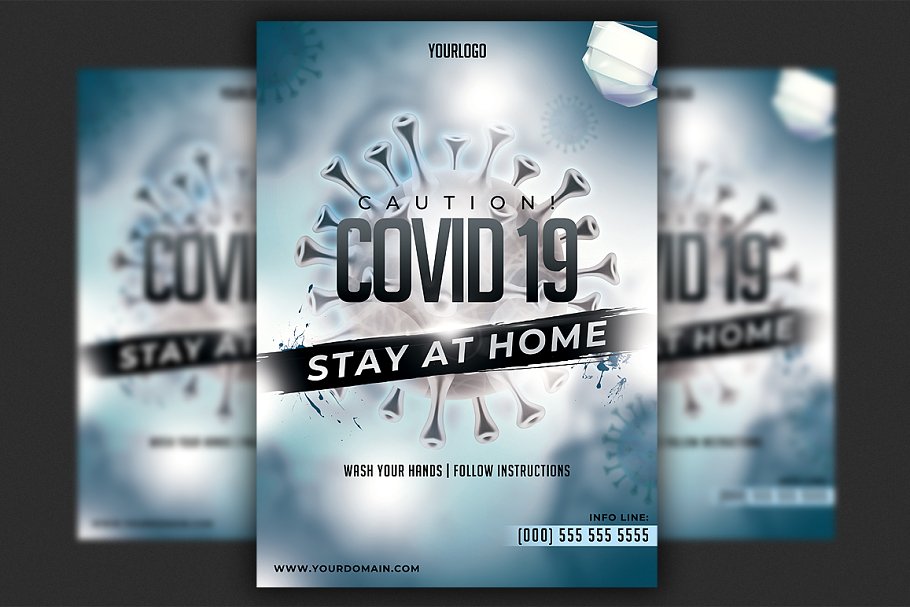 Coronavirus Covid 19 flyer banner template is very modern (psd) flyer that will be the perfect invitation for your information or event! All elements are in individual layers and the text is fully editable!Info / Download Source